Food technology and ingredients company Kerry Group has reported improved revenues, earnings and trading profits for 2018 as it said it continued to make good progress across its strategic growth priorities.
Kerry Group said its group revenue for the year rose by 3.1% to €6.6 billion, while its trading profits also rose by 3.1% to €805.6m from €781.3m the previous year. 
The company's adjusted earning per share came in at 353.4 cent, an increase of 8.6% on a constant currency basis.
It also said it was proposing a final dividend per share of 49.2 cent, which brings its total dividend for 2018 to 70.2 cent, an increase of 12% on the previous year.
Edmond Scanlon, Kerry's chief executive, said the company's volume growth was well ahead of its markets, while its underlying margin expansion was in line with expectations.
"This performance continues to highlight the uniqueness of Kerry's business model in supporting customers, as consumers continue to look for innovation and drive further marketplace fragmentation," Mr Scanlon said. 
"We have also made good progress across our strategic growth priorities, including further developing our industry leading portfolio of taste and nutrition foundational technologies, completing a number of strategic acquisitions and investments aligned to growth priorities as planned," he added.
The CEO said that Kerry expects to deliver adjusted earnings per share growth of 6% to 10% on a constant currency basis in 2019.
On Brexit, Kerry said that while there continues to be uncertainty with respect to its outcome, the company currently anticipates that "a managed transition" will be the most likely outcome of the negotiations. 
"The group has mitigation plans in place to limit the potential short term implications of a 'no-deal' scenario.
"Kerry remains cautious on the UK consumer landscape, but is confident it will continue to outperform the market," the company added.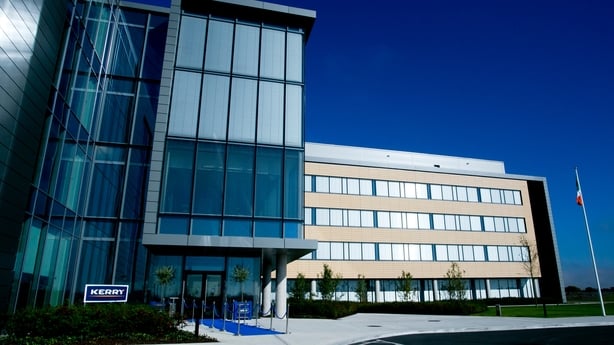 In its results statement, Kerry said that while the Irish and UK consumer foods markets encountered challenges impacting consumer sentiment, with market growth rates reducing across the year, its Consumer Foods division delivered a solid underlying performance.
Revenue volumes at its Consumer Foods division grew by 1.1% to €1.339 billion, led by good performance across its 'Food to Go' range. 
But Kerry noted that the UK retail environment continues to undergo major structural change through increased consolidation of major retailers, further growth of discounter volumes and ranges, and pressure on high street stores.
It said this all resulted in the need for more streamlined and dynamic supply chains.
Kerry said its Denny range benefited from increased marketing support in Ireland and while its traditional spreads category continued to be challenged, its Dairygold brand in Ireland maintained its market leadership position.
Revenue in its Taste & Nutrition division rose by 4.1% to €5.351 billion driven by meat, beverage and snacks. 
The company said that developing markets delivered strong volume growth of 9.5%, with APMEA the main driver. 
Foodservice delivered a good performance of 5.8% volume growth, especially considering the strong comparatives in 2017.