The value of goods exports rose by 15% to a record €140.8 billion last year as a fall in the goods sold into Britain was substantially offset by increases to almost all of Ireland's other major trade partners. 
The Irish export-led economy has been the best performing in the European Union since 2014 and the government forecasts that gross domestic product (GDP) grew by 7.5% last year as Brexit had little immediate impact on activity. 
The CSO said the largest category of exports were medical and pharmaceutical products and exports of these goods accounted for 33% of all exports last year. 
The value of goods sold to Britain, which is due to leave the European Union on March 29, fell by 3% to €14 billion, the second annual fall in three years. 
The share of goods exported to the UK has fallen to 11% from 17% a decade ago. 
Firms have cut their reliance on Britain by ramping up trade elsewhere and total exports to the EU rose by 13% to €70 billion with goods trade increasing by 17%. 
Exports to the US, the largest destination for goods, were up 17.5% to €39 billion.
---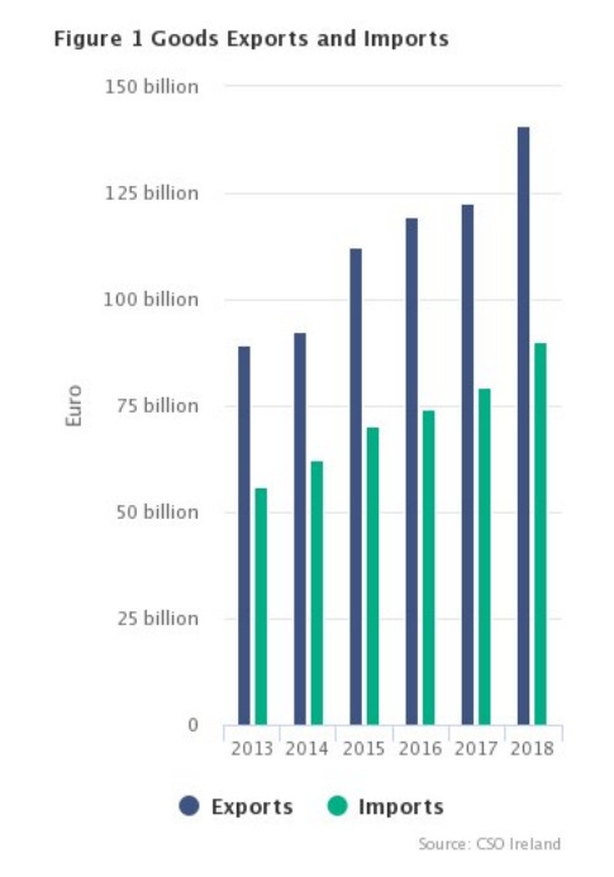 ---
Meanwhile, the CSO said that the value of imports also hit new levels last year, increasing by €10.904 billion (14%) to €90.175 billion. 
Imports of "other transport equipment", including aircraft were valued at €20.664 billion - representing 23% of total imports. 
The CSO said this was an increase of €3.710 billion, or 22%, on the 2017 level of imports.
The figures also showed taht  imports from Britain increased 5% during the 12 month period to €18.3 billion.