Ulster Bank has reported a 'modest' operating profit of €15m for the year to the end of December, a marked improvement on the operating loss of €151m it reported in 2017.
The bank, which is owned by Royal Bank of Scotland, said its total income for 2018 was in line with the 2017 figure of €689m.
Ulster Bank said its customers deposits rose by €1 billion, which supported a 10 percentage point improvement in the loan to deposit ratio to 105%.
The lender completed a sale of a portfolio of non-performing loans to US investment firm Cerberus for €1.4 billion in the fourth quarter of 2018, which reduced its non-performing loan ratio to 11.3%.
It said it plans a further loan sale in 2019 and added that it has enhanced its "contact strategy" with customers in long term arrears.
We need your consent to load this rte-player contentWe use rte-player to manage extra content that can set cookies on your device and collect data about your activity. Please review their details and accept them to load the content.Manage Preferences

"We would strongly encourage any customer who is in difficulty to talk to us - we have colleagues available to help customers based on their individual circumstances," Ulster Bank said. 
The bank said its Net Interest Margin (NIM) - a key measure of bank profitability - improved by 12 basis points to 1.79% driven by a funding benefit, improving asset mix and lower cost of deposits. 
Ulster Bank's chief executive Jane Howard said that the bank made tangible progress on its priorities to build a simpler, safer and more customer focused bank last year.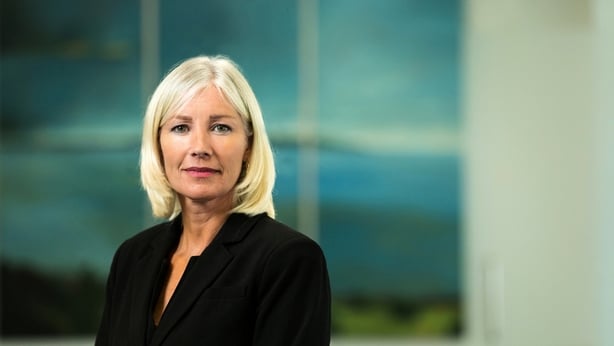 "Today we report a modest profit of €15m which is underpinned by a significant improvement in NIM, reduction in our non performing loan ratio, increased customer deposits and new mortgage lending growth, reflecting our decision to supplement our excellent service with market-leading fixed rates for our customers," she said.
Ms Howard also said that Ulster Bank is focused on providing help and support to its customers who are planning for possible Brexit scenarios. 
"We will continue to monitor the situation and regularly review our plans to ensure we're ready for Brexit, our aim is to support customers with the same level of service and range of products as we do today," the CEO said.  
She noted that 2018 was a particularly challenging time for the agri-food sector and the bank introduced a €15m weather fund to support new and existing customers through cash flow pressures in a year of unprecedented weather events.
On the tracker mortgage examination, Jane Howard said that Ulster Bank expects to complete redress and compensation, having made payments to impacted customers, by the end of April. 
"Issues such as these have happened too frequently in our past and we cannot apologise enough for the impact that this has had on our customers and our colleagues as they work to put this right," she added.
The bank's 2017 performance had been affected by large provisions for the tracker mortgage examination and bad loans that were being prepared for sale.