Dublin's economy continues to thrive with employment figures at a 20 year high, tourism spending growing and the construction of new housing continuing on an upward trend. 
That is according to the latest Dublin Economic Monitor, produced by EY-DKM Economic Advisory on behalf of Dublin City Council. 
But despite the fact that Dublin's economy continues to perform well, the city is showing signs of stabilisation.
The monitor noted that residential property prices are steadily declining, the level of passenger arrivals at Dublin Airport saw no monthly increase and Dublin Port reported its second consecutive quarterly decline in activity in the last quarter of Q4 of 2018. 
Ciara Morley, Senior Consultant at EY-DKM Economic Advisory, said that over the past four years the story for the Dublin economy has been one of strong recovery. 
"We have seen positive trends across almost all key performance indicators especially those relating to the labour market, with talent attraction now a real and growing challenge for firms in Dublin.
"While the data presented in today's report appear to show early signs of stabilisation in the Dublin economy - with headwinds approaching in the form of Brexit and a potentially weakening global economy  the overall outlook is still a positive one, bolstered by the labour market and consumer expenditure," Ms Morley said.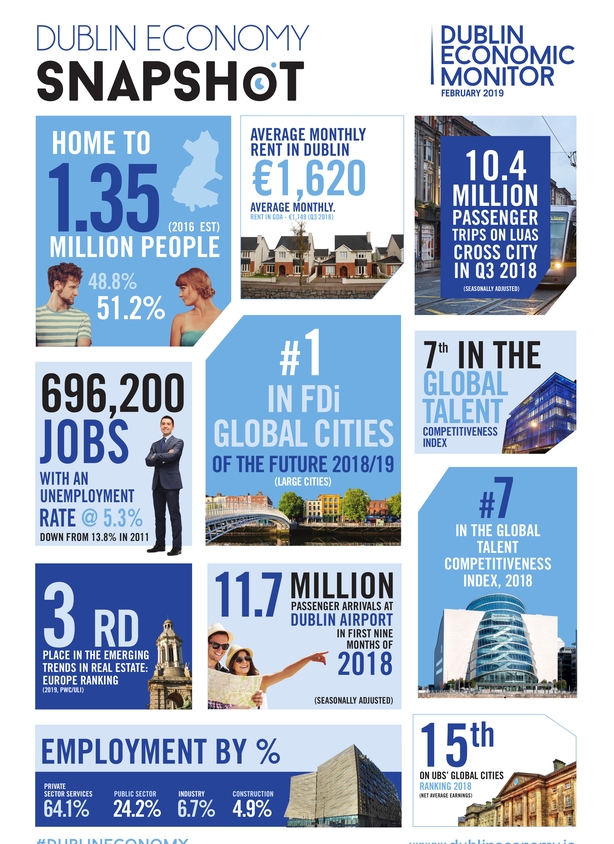 Today's monitor shows that 33,000 more people have entered the Dublin workforce since late 2017 and a total of 696,200 people are currently employed in the city - the highest level in 20 years.
The market remains close to full employment with the city's unemployment rate at 5.3% for the past three quarters.
The monitor also found that the number of passengers on Dublin's transport systems declined marginally in third quarter of 2018. 
However LUAS numbers saw their fifth consecutive quarter of passenger growth with close to 10.5 million passenger trips in third quarter of last year.
Meanwhile, rents in Dublin are now at their highest level since the series began in the third quarter of 2017 and there is a similar situation in the Greater Dublin Area. 
Almost 2,000 homes were completed in the third quarter of last year, while year on year growth rates in residential house prices have declined for seven months in a row. 
Meanwhile, tourism spending is up more than 14% on the back of increase in US, German and Chinese spending.