The country's unemployment rate remained at 5.3% in January, new Central Statistics Office figures show today.
This marked the second month in a row where the level of joblessness has stayed near an 11-year low.
The fall in the number of people who are unemployed has slowed over the last year as the economy moves towards full employment - where just about everyone who wants a job has one.
The unemployment rate had stood at 6% a year ago and is down from a financial crisis peak of 16% in 2012.
The Finance Department cautioned last week that while employment would continue to grow over the next five years if the UK crashes out of the EU without a deal, around a third fewer jobs would be added than forecast under an orderly Brexit.
Today's CSO figures show that the seasonally adjusted number of people who were unemployed stood at 127,300 in January.
This was down from 127,900 when compared to the December figure and a decrease of 13,400 when compared to January 2018.
The figures also show that the seasonally adjusted unemployment rate for men fell to 5.2% in January from 6.1% the same time last year, while the rate for women eased to 5.4% from 5.8% in January of last year.
But the seasonally adjusted youth unemployment rate for people rose to 12.4% in January from 12.2% the previous month.
Meanwhile, employment rose in ten of the 14 economic sectors on an annual basis in the third quarter of 2018.
The greatest rates of increase were posted in the construction sector, with the level of jobs up by 13.9%, and the administration and support services sector, with the number of jobs growing by 13.5%.
Commenting on today's figures, Pawel Adrjan, economist at global job site Indeed, said that expectations of unemployment falling below 5% this year will hopefully be met sooner rather than later.
But he said the "dark cloud of uncertainty of Brexit" looms large as a threat.
The economist also noted that between 2015 and 2018, job searches from the UK as a share of all searches on Indeed.ie have risen by 28% while they have risen by 32% from the rest of the EU.
---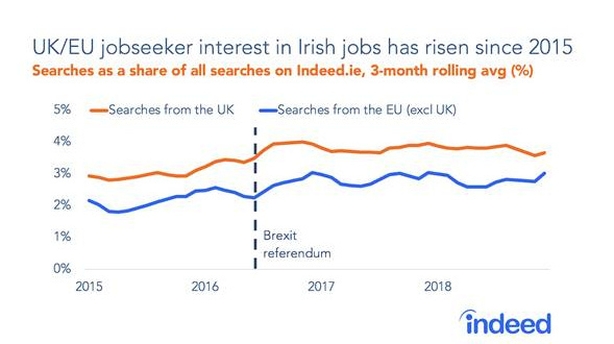 ---
"This suggests that workers in Britain, fearing the economic impact of Brexit, have been willing to look to Ireland's growing economy for alternative options.
"Meanwhile continental Europeans, interested in working in an English-speaking country close to home, have also been more inclined than previously to look at job options in Ireland given the UK's uncertain future", Pawel Adrjan added.
Merrion economist Alan McQuaid said the rise in employment appears far from over.
Mr McQuaid said the latest Labour Force Survey figures from the CSO showed that the participation rate stood at 62.6% in the third quarter of 2018, compared with a pre-recession peak of 66.7%.
He noted an average net jobs rise of 61,900 in 2017, while a net jobs gain of 66,000 is forecast for 2018.
"Meanwhile, the average jobless rate was 5.7% in 2018, down from 6.7% in 2017. A further fall, to 5%, is envisaged for 2019, with a net increase in employment of around 50,000," the economist added.