Minister for Finance Paschal Donohoe has cautioned that Ireland must not have its attention diverted away from other challenges and changes taking place in the global economy by Brexit.
Speaking at the National Treasury Management Agency-organised Ireland Strategic Investment Fund Market Engagement Event in Dublin, Mr Donohoe said there are many other changes that are taking place across the global and European economy that Ireland needs to reflect on and get ready for.
These include European monetary policy changes, the ongoing trade talks between China and the US and other matters inside the eurozone, he said.
"Brexit is a huge challenge for us, but it can't divert our attention away from the fact that there are many other forms of change that are happening and we need to look at how the Irish economy can be best placed to deal with it," he told the audience.
"I'm not saying this morning that I don't think Brexit is going to happen in the coming weeks and months, we're just seeing lots of debate around what that's going to look like.
"I'm merely making the point that it is not the only kind of change that is underway."
He said the Government has been taking action in areas like capital planning, the movement to a surplus position in the national finances and encouraging new forms of innovation.
He added that the change in the mandate of the Ireland Strategic Investment Fund reflects the new circumstances that Ireland has by focusing on five strategic areas of importance.
Asked later about when a decision is likely to be made on the National Broadband Plan, he said Minister for Communications Richard Bruton and his team are doing an a lot of work on evaluating the final stages of that project, but declined to say when that would be concluded.
Earlier at the event, the NTMA chief executive said the organisation does not have a contingency plan for Brexit as it operates with a permanent contingency plan.
Conor O'Kelly said Ireland is one of the most open economies in the world and one of the most indebted countries in Europe and the world.
The state relies, he said, on foreign capital for 90% of our borrowings.
"Ireland doesn't need a Brexit contingency plan, it needs a permanent contingency plan," Mr O'Kelly said.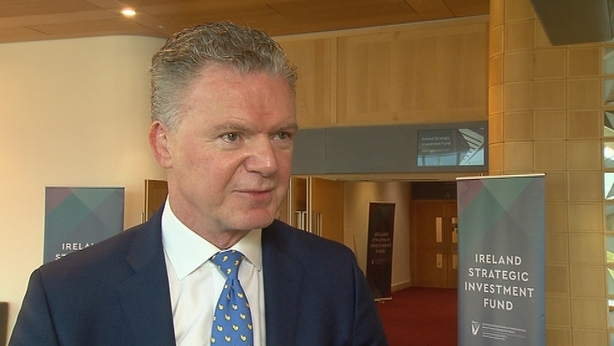 In order to do that, he said, the agency has locked in today's rates through prefunding, keeps sufficient cash on the balance sheet to cushion market volatility, terms out debt to smooth over subsequent years and diversifies investor base by geography, type and product.
"That also helps to mitigate those risks," he said.
Mr O'Kelly said that while the NTMA is concerned about Brexit, there are things it is concerned about more.
"We worry about Italy, the banking crisis, the financial crisis there. We are watching it very closely," he said.
"Investors worry a lot about Ireland's tax, and the corporate tax environment and whether there might be any changes there," Mr O'Kelly said.
He said the reality though is that the next shock, the next thing that will hit our funding market, will probably be something that we have not yet thought of and is not on the front page of every newspaper in the world.
He said because of its openness and vulnerability, Ireland needs to be prepared and to have contingency plans in place from a funding perspective for many years to come.
Mr O'Kelly also spoke about the NTMA's movement towards the environmental agenda, saying that it had issued the country's first Green bond last year and divested from all fossil fuel investments.
That included identifying 148 global fossil fuel companies in which it will not invest in the future and divesting shares in 38 stocks that it currently owns.
Mr O'Kelly said this move makes the ISIF one of the first sovereign wealth funds in the world to implement a fossil fuel divestment strategy.
Speaking more generally about ISIF's investments, he said last year the fund invested €770m, making 21 investments or one every two weeks.
He said ISIF had not escaped the global market rout last year and had posted and overall 1.1% negative return, although the Irish portfolio recorded positive returns.
ISIF today also launched its new revised investment strategy, guided by the National Development Plan.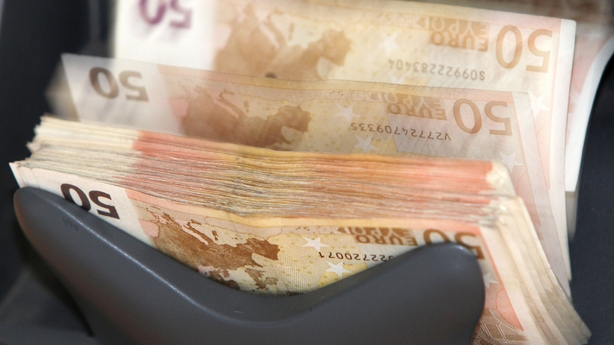 Five sectors are to get prioritised, including regional development, with €500-750m of commercial investment in regional businesses and projects targeted over the next five years.
The ISIF said it also aims to address gaps in the capital markets to provide finance that will deliver up to 25,000 homes by 2025.
Under its new priorities, ISIF said it plans to contribute to the development of the next wave of larger-scale indigenous businesses that will compete internationally, while it will also build on existing investments in renewable energy and carbon emission reduction to support Ireland's transition to a low-carbon economy.
On Brexit, ISIF said it will seek out commercial investments in businesses that may be adversely affected by the UK leaving the European Union Brexit to enable long-term product and markets diversification.
ISIF's Director Eugene O'Callaghan said the fund's new focused strategy takes account of the significant progress made in the Irish economy and investment climate since ISIF opened for business.
He said that the opportunities and challenges facing the Irish economy in 2019 are very different to those of 2014, when the the fund was created.
"It will be important for ISIF to contribute to the wider development of the Irish economy and also to be the investor of choice for ambitious companies and projects that can use ISIF and co-investor capital to drive their long-term sustainability and success," he added.