Aer Lingus and British Airways owner IAG said today it would not make a new bid for Norwegian Air Shuttle and would sell its remaining stake in the company.
The news sent shares in the budget carrier sharply lower. 
Shares in Norwegian dropped over 26% after IAG's statement, hitting their lowest level since November 2012, while IAG turned positive and were trading up 1.1% in afternoon deals. 
Norwegian shares ended the day down 21%.
"International Airlines Group confirms that it does not intend to make an offer for Norwegian Air Shuttle ASA and that, in due course, it will be selling its 3.93% shareholding in Norwegian," IAG said in a statement. 
Norwegian has shaken up long-haul rivals by offering cut-price transatlantic fares.
In May, it said it had received two conditional proposals for a full takeover from IAG, but had rejected them because they undervalued the company. 
IAG CEO Willie Walsh last year ruled out launching a hostile takeover approach for Norwegian, and said this week that he would not get drawn into a bidding war.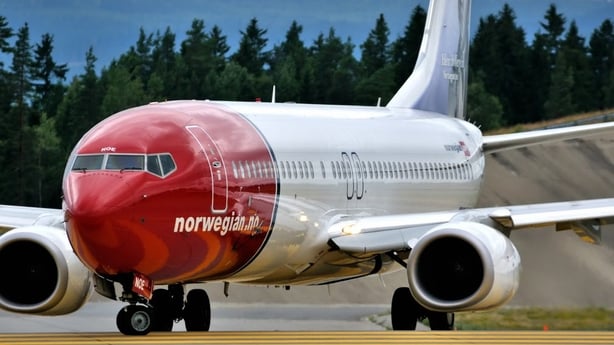 Speaking at the Aviation Club UK event in Dublin on Sunday night, he said Norwegian is a good brand, has an interesting network and while it is struggling financially today it is not beyond people to resolve that.  
"That means Norwegian will be a different Norwegian than it is," he said. 
"It could be part of another group or they will downsize, so I don't buy into the idea that Norwegian disappears. I think Norwegian in some form will continue." 
He said IAG has taken a view and expressed an interest in Norwegian because it wants to expand into that market. 
But he said that offer is both time and price limited. 
Norwegian has quickly built its long-haul route network, and in October overtook IAG's British Airways as the biggest non-US airline on transatlantic routes to and from the New York area. 
In addition to British Airways and Aer Lingus, IAG also owns Iberia and Vueling. 
"Norwegian's plans and strategy remain unchanged. The company's goal is to continue building a sustainable business to the benefit of its customers, employees and shareholders," Chairman Bjoern Kise said in a statement today.