The European Investment Bank has provided €155m to finance two new passenger and vehicle ships for ICG owned Irish Ferries.
The two new ferries will increase passenger and cargo capacity on routes to Ireland, replace older and smaller vessels and significantly reduce emissions from the Irish Ferries fleet.
The vessels are expected to be used on both the Dublin-Holyhead and Dublin-Cherbourg routes to reflect demand for a greater choice of services from Ireland to Britain and direct to continental Europe.
The news came today as the WB Yeats cruise ferry made its maiden voyage from Dublin to Holyhead this morning.
The WB Yeats was partly financed with €75m in funds from the EIB. It can transport 1,800 passengers, 300 cars and 165 trucks.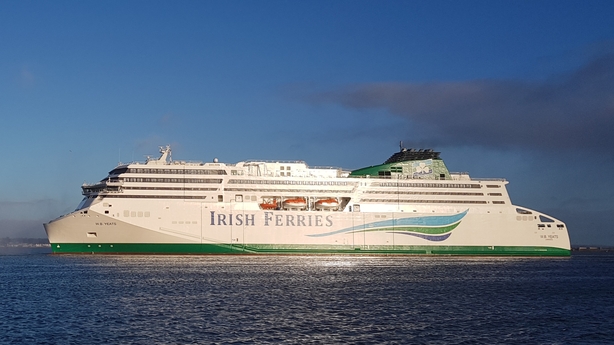 The EIB is also providing €80m to finance the building of a second new vessel for Irish Ferries.
Due for delivery in 2020, this vessel will be the largest cruise ferry in the world in terms of vehicle capacity and will provide Irish Ferries with an effective 50% increase in peak freight capacity.
It will be able to transport 1,800 passengers and crew and 1,526 cars or 300 trucks.
These long-term loans to Irish Continental Group represent the first support approved by the EIB under a new Green Shipping financing initiative that supports investment in new and existing ships to reduce emissions and improve fuel efficiency.
Andrew McDowell, European Investment Bank Vice President, said that shipping connections are crucial for Ireland, adding that the two new ships will both transform maritime transport to and from this country and cut harmful emissions.
"Increasing maritime transport capacity reflects increased demand arising from Ireland's export driven recovery and the potential need for flexibility in the event of disruption on UK routes," Mr McDowell said.
"In the context of EIB's ever-increasing support for Irish private businesses, these two loans also demonstrate the value that EIB loans can provide to Irish corporates through beneficial pricing, long tenors and flexible loan structures," he added.
Eamonn Rothwell, CEO of ICG, said that significant new investment is essential to expand the Irish Ferries fleet.
"The €155m financing facilities agreed with the EIB, alongside financing from leading Irish and international banks, for the two new cruise ferry ships demonstrates the EIB's commitment to support transformational corporate investment such as this in Ireland, enabling ICG to deliver on its growth strategy and strengthening the tourism and cargo trading links in and out of the country," Mr Rothwell added.