Residential property price growth eased to the lowest annual level in almost two and half years, as prices fell on a monthly basis for the first time since the end of 2016.
Residential property prices nationally fell on a monthly basis by 0.5% in November, new Central Statistics Office figures reveal, while property prices increased by 7.1% nationally in the year to November.
This compares with an increase of 8.4% in the year to October.
Today's CSO figures show that residential property prices in Dublin rose by 5% in the year to November, with house prices rising by 4.6% and apartments by 6.5%.
The highest house price growth in Dublin was in Dún Laoghaire-Rathdown at 6.8%, while the lowest growth was in Fingal at 3.9%.
Meanwhile, property prices outside of Dublin increased by 9.3% in the year to November - the first time the rate of growth has fallen below 10% since late 2016.
House prices outside of Dublin rose by 8.8% and apartments by 14.5% in November.
The region outside of Dublin that saw the largest rise in property prices was the Mid-West with increases of 20.7%, while the smallest rise was recorded in the Border region at 6.1%.
The CSO said that property prices nationally have increased by 83% from their trough in early 2013.
---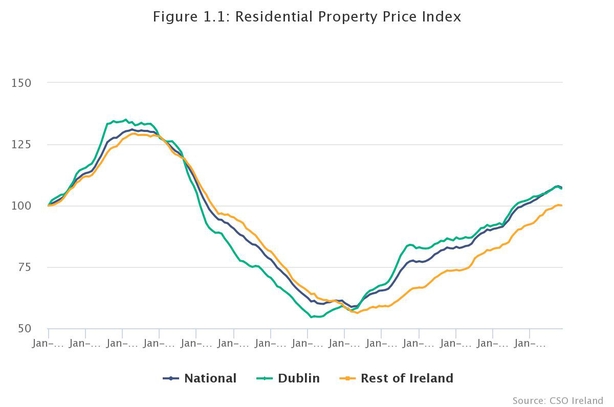 ---
Dublin residential property prices have risen 96.1% from their February 2012 low, while property prices in the rest of the country are 78.1% higher than at their trough in May 2013.
Today's figures also show that households paid a median price of €245,000 for a home in the year to November 2018.
The Dublin region had the highest median price of €365,000. Within the Dublin region, Dún Laoghaire-Rathdown had the highest median price at €535,000 while Fingal had the lowest at €325,000.
The highest median prices outside Dublin were in Wicklow (€315,500) and Kildare (€290,000).
The lowest were €96,000 in Longford and €100,000 in Leitrim.
---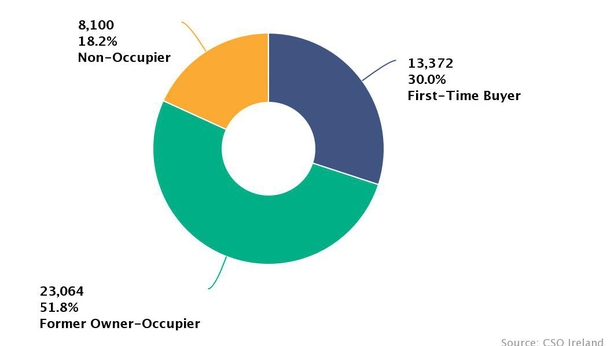 ---
Today's figures also show that a total of 44,536 home purchases were filed with Revenue in the year to November.
Of these, 30% were purchases by first-time buyer owner-occupiers, while former owner-occupiers purchased 51.8% of the homes.
A sharp recovery in house prices that began five years ago and accelerated again in 2017 amid tight supply has begun to cool since annual growth rose above 13% last April, as prospective buyers' affordability is stretched.
Commenting on today's CSO figures, KBC Bank Ireland's chief economist Austin Hughes said that Brexit concerns could have had a modest negative impact on the November property price data.
He said that such concerns may add extra volatility and exert some downward pressure on property price inflation in coming months.
"Uncertainty about the Irish economic outlook is hitting consumer sentiment and will make prospective purchasers more cautious about affordability. As a result, transaction levels and the path of prices could look weaker in early 2019 data," the economist added.
Merrion economist Alan McQuaid said that as we wait for more houses to be built, residential property prices will continue to rise, although at a slower pace than in recent months.
"We see house price growth staying in positive territory on a year-on-year basis for a while yet. The biggest rise is likely to come from outside the capital, with the asking price for houses in more expensive areas increasing at a slower rate," Mr McQuaid said.
He said that changes to Central Bank rules mean that in more expensive areas, the trend of increasing house prices will not be as pronounced.
Previously up to a fifth of mortgages were allowed to exceed a loan-to-income ratio of 3.5, but this became even tighter in 2018 with only 10% of those trading up allowed to breach that rule.
The allocation remained unchanged for first-time buyers.
"Dublin prices will be out of reach for more borrowers as a result, while in other areas where buyers will not need to borrow as much, prices will see stronger growth," the economist predicted.
Meanwhile, separate figures from the CSO today show that mains gas was the main heating fuel used in 57% of the 27,304 homes completed during 2015-2018 and with a Building Energy Rating (BER) audit.
The CSO said this was a substantial increase from 2000-2004 when 40% of dwellings with a BER audit used mains gas.
There were contrasting trends for heating oil and electricity with 36% of homes built between 2000 and 2004 using heating oil compared with 6% for homes built from 2015 to 2018.
In contrast, usage of electricity increased from 19% in 2000-2004 to 37% in 2015-2018.
---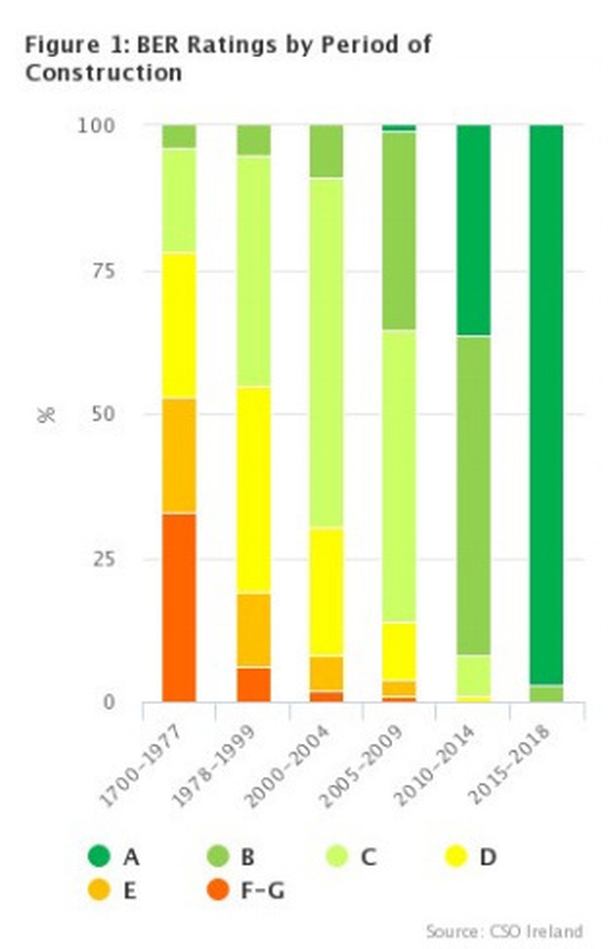 ---
The CSO also said that homes built in 2015-2018 were considerably more energy efficient than in earlier periods with 97% given an "A" rating compared with 36% in 2010-2014 and 1% in 2005-2009.
It noted that Dublin County had the highest combined "A" and "B" rating at 27%, while Roscommon had the lowest proportion of combined "A" and "B" rating at 7%.