Higher costs for rents, mortgage interest repayments, and energy led to the inflation rate rising by 0.7% in the year to December, latest figures from the Central Statistics Office show.
Rents rose by 6.2% across the year, mortgage interest payments were 1.2% higher, and energy prices were 5% more expensive.
Meanwhile, restaurant & hotel prices were 2.1% higher, driven by higher prices for alcoholic drinks and food consumed in licensed premises, restaurants, and cafes.
Transport prices showed a 0.6% increase in the year to December.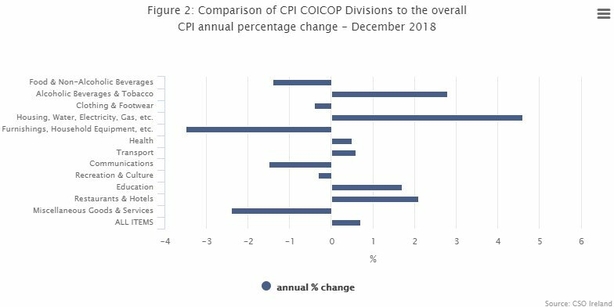 Household furnishing and maintenance costs fell by 3.5% over the last 12 months, while the 'Miscellaneous Goods & Services' category - which includes insurance costs - saw a drop of 2.4%.
The fall in the cost of services is largely driven by a fall in the cost of health and motor insurance.
The price of motor insurance dropped by 7% in the year to December, while health insurance saw a 4.7% drop.
However, home insurance rose by 3.5% across the year.
According to the CSO, clothing & footwear prices fell by 1.1% on a monthly basis in December.
This was mostly down to sales events.