A record €995m was spent at Irish grocery retailers in December, according to latest figures from market research firm Kantar Worldpanel.
Shoppers spent an average of €694 on groceries during the month, which Kantar says is €151 "more than the typical month".
In the 12 weeks to 30 December, the Irish grocery market grew by 3%.
Spend on more expensive products also rose, with branded and premium private label range sales up by 3.8% and 11.2% over Christmas.
Mince pie sales jumped by 10% when compared with the previous year, seasonal biscuit sales were 11% higher, while nearly €2 million was spent on just Christmas puddings.
Commenting on the figures, Consumer Insight Director at Kantar Worldpanel Douglas Faughnan said: "The fact that Christmas fell on a Tuesday meant shoppers could take advantage of a full weekend of trading before the big day, and Saturday 22 December proved the most popular day for Christmas grocery shopping.
"The Irish public spent an additional €25 million compared with the previous Saturday, making it the biggest trading day of the year with €75 million going through tills."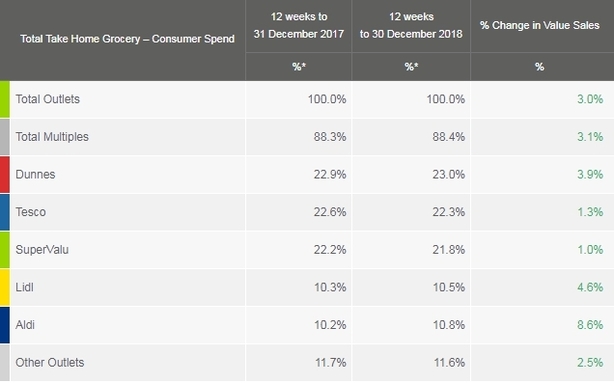 Kantar's figures also show that for the second Christmas in a row Dunnes was Ireland's largest grocery retailer, accounting for 23% of the market.
Dunnes was the only one of the three biggest retailers to see a rise in shopper numbers, with almost 31,000 extra households visiting its stores compared to last year.
Tesco and Supervalu were close behind with market shares of 22.3% and 21.8%.
Both posted sales growth with Tesco's performance primarily bolstered by its private label ranges, which contributed 57% of overall growth, and its premium Tesco Finest offering, which grew by 4.8%.
However, low-cost retailers Aldi and Lidl were the strongest performing retailers over the 12-week period to 30 December, with growth of 8.8% and 4.6%.
More than 70% of households visited each retailer over the period, with Lidl's market share now at 10.3% and Aldi's at 10.2%.