The Kayfoam factory in Bluebell in Dublin is a labyrinthine complex of large warehouse units packed with noisy high-tech machines pumping out, shaping and sizing huge blocks of foam under the watchful eye of a team of busy staff.
The blocks are then quickly fashioned into mattresses and other foam based bedding materials like pillows, which in turn are packaged, shipped and sold under a range of brand names.
We've come to talk to the company about Brexit preparations, and with so much sponge at every turn, its hard to resist the obvious light-hearted references to "soft" and "hard" exits, and "firm" commitments, etc.
But for this Irish company employing over 300 staff, Brexit is no laughing matter.
The UK is Kayfoam's largest market and so it is hoping its business there is not damaged in the coming weeks and months by the still live possibility of the UK crashing out of the EU without a deal.
To mitigate against the risk it is hedging currency, as it has done for years, and set up a venture in Estonia to supply mattresses into the Swedish market.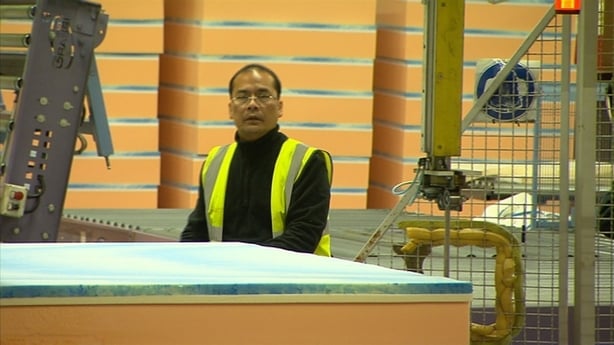 "If we end up with a hard Brexit it will obviously have a massive impact on industry in Ireland in general, particularly on food and other industries where you have very high tariffs," said David Moffitt, CEO of Kayfoam.
"We would have concerns way beyond tariffs...the biggest is going to be currency as there is every possibility that sterling will plunge through parity with the euro."
"You've also got the issue that consumer demand in the UK could plunge as well. The issue of credit ratings on retailers in the UK will be a massive issue."
"So we see a whole series of issues, and then you've also got the issue that there will be some form of customs arrangement between the UK and Ireland and there will be costs associated with that."
Kayfoam is in many ways typical of the hundreds of mid-sized manufacturing companies here, facing the unrelenting uncertainty around Brexit.
Working with them at the coal-face to prepare for as many eventualities as possible is Enterprise Ireland (EI).
It launched its annual results for 2018 today, which show that last year the number of jobs in companies it supports reached another record high of 215,000, with two thirds of those outside Dublin.
But amid all that positivity, the Brexit elephant is still in the room and could be about to trample all over the job creation progress that has been made in recent years.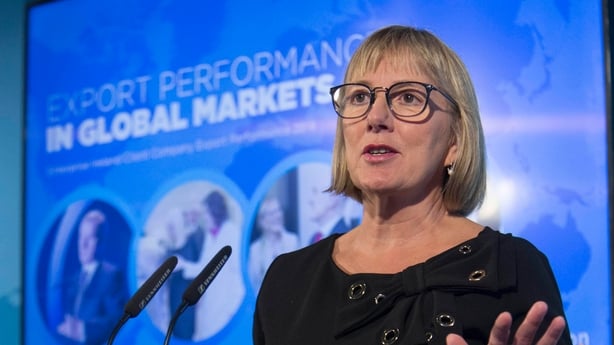 Indeed, Julie Sinnamon, Enterprise Ireland's CEO acknowledged this, admitting that there are 600 EI client companies that together employ up to 25,000 staff, who are vulnerable and at risk if there is a hard Brexit, due to their exposure to the UK.
Many, she said, are in the food sector and would face a range of challenges, including currency volatility, uncertainty around transition arrangements, customs and logistics barriers and certification and regulation issues.
"Obviously the big issue is the lack of certainty," she said.
"In as much as they can plan we are saying plan for a hard Brexit, control what you can control and take steps."
She added that tariffs pose the biggest risk for many UK-export focused businesses followed by currency volatility.
"It is one of the big issues when we have been talking to clients around the country," she added.
"The whole transitional arrangements and the customs and logistics, those are issues that companies are concerning themselves about and making plans."
Enterprise Ireland has been doing its best to prepare these companies for the worst on a one-to-one basis.
It's held consultancy meetings with them, provided training, innovation, competitiveness and diversification advice, helped them diversify into new markets, run trade events for them and guided them in the development of new growth plans.
According to its last survey, 85% of client businesses here have begun taking action ahead of Brexit.
Brexit: A look at the possible impact of a no-deal scenario on business, finance and trade | https://t.co/lNMwGAckDm pic.twitter.com/ahEVY5YVMd

— RTÉ News (@rtenews) January 9, 2019
However, taking action is not the same thing as being ready.
The most recent AIB Brexit Sentiment Index found just 6% of SMEs in the Republic have a formal Brexit plan in place, though it is fair to argue that you can't be properly ready for something when you don't know what it will involve.
According to Catherine Moroney, Head of Business Banking at AIB, there are three key questions businesses should be asking themselves right now.
"The first one would be to say to themselves if tariffs are applying to my business, do I know what they are going to be and do I know can I afford those tariffs," she said.
"The reality is that tariffs can vary from 5% all the way up to 40%, so businesses need to know what those tariffs are going to be and then to plan for that."
The second question is can they source items from their supply chain from elsewhere that wouldn't have the same impact on their tariffs?
"That is actively happening already, we are already seeing evidence of customers doing that," she claimed.
The third area is ensuring cash flow is solid.
"If you have products that you want to sell or some small component in your supply chain that's needed for your product, you don't want them stuck at a border."
"So you just need to talk to your logistics company or export broker and make sure you are ready for that piece as well."
She also urged companies to look at whether they can lock in their profit by hedging against sterling exchange rate volatility.
Regulation and certification is another big worry for some businesses when it comes to Brexit preparation.
For some big firms operating here and in the UK that have the resources and the scale to do it, dealing with that challenge involved internal reorganisation of functions from the UK to Ireland, or indeed the transfer of entire business units to here.
The Central Bank of Ireland says it has received more than 100 Brexit related applications for authorisations here since the 2016 referendum and that number is likely to be much higher by the time we learn exactly what Brexit means in reality.
But for others, such upheaval is neither financially or practically possible and they may have to tackle a possibly complex regulatory burden a different way.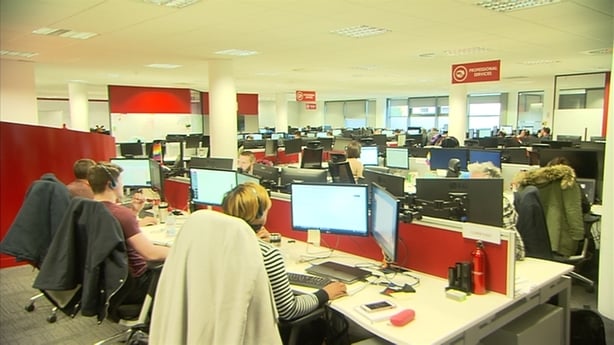 Rapidly growing Irish fintech company Fenergo builds software products to help businesses, particularly those in financial services, to cope more easily with regulation and compliance.
It says it is likely that there will be a lot of regulatory change in the sector in the event of a hard Brexit, but it won't happen overnight.
"Clearly for our UK clients this is a big change and there is a lot of uncertainty about what is going to happen," said Emer Murray, Vice-President at Fenergo.
"We can expect that regulations will change over time, I expect that there will be a lot of increasing uncertainty and complexity in the regulations, we can expect a greater degree of friction."
But she says it is not like a Y2K moment, referencing unfounded fears of a global computer shutdown on the eve of the new millennium 19 years ago.
"They will continue to operate with the regulations as they are encoded in the system, and that makes a lot of sense obviously because it is set up to manage fraud," she said.
"And I think that will continue for a period of time. But it is really how it is going to change and evolve over time, and it is highly complex."
Despite all the preparations though, uncertainty still prevails, at least for the moment.
And that continuing uncertainty may be the only certainty there is around Brexit for at least the next week if not longer it seems.
In that context the advice from most experts to businesses that they should continue planning for the worst and hoping for the best seems very appropriate.