Sainsbury's, Britain's second biggest supermarket group, has today reported a bigger-than-expected fall in Christmas sales.
The supermarket group was hit by a drop in demand for toys and electrical goods that could signal a bleak festive season for the broader retail industry. 
Sainsbury's, which is battling to acquire third ranked player Asda, said that while grocery sales were solid in its third quarter, it suffered from shoppers "downtrading" to cheaper items. 
It also blamed poor demand at the Argos general merchandise business it purchased in 2016. 
"I suspect that by the time we get to the end of the reporting season we will have seen that people are being extremely cautious in the way that they spent their money," chief executive Mike Coupe told reporters. 
"There is definitely caution out there and as we go through the next period of (political and Brexit) uncertainty I suspect that that will continue to be reflected in the way that customers behave," he said. 
Coupe's comments echoed those from supermarket chain Morrisons yesterday, which said shoppers had become more cautious amid uncertainty over whether Britain will agree a negotiated withdrawal from the European Union in less than three months' time. 
Whether Britain's competition regulator approves the Asda deal is the major swing factor in Sainsbury's share price. 
In the three months before today's update the stock had fallen 15% on concerns the deal may not proceed. 
Coupe today reiterated his confidence that the regulator would clear the takeover. 
Analysts also noted that, despite missing sales forecasts, Sainsbury's full-year profit guidance remained intact.
Sainsbury's like-for-like sales, excluding fuel, fell 1.1% in the 15 weeks to January 5 - below analysts' average forecast of a 0.2% fall and a second quarter rise of 1%. 
The group said its total retail sales fell 0.4% in the quarter. 
That reflected a 0.4% rise in grocery sales which was more than offset by a 2.3% fall in general merchandise sales - a shortfall also blamed on a decision to reduce promotional activity across Black Friday in November. 
The company noted margins "remain under pressure" in general merchandise. 
If market leader Tesco meets analysts' consensus forecast when it reports third quarter and Christmas trading tomorrow, Sainsbury's will be the weakest underlying performance of the big listed UK food retailers in the key festive period. 
Morrisons yesterday reported a 0.6% rise in retail like-for-like sales for the nine weeks to January 6, while industry data showed discounters Aldi and Lidl won market share from all of the big four chains in the Christmas quarter. 
Sainsbury's £7.3 billion pound deal to buy Asda, the UK arm of Walmart, is currently being assessed by the Competition and Markets Authority (CMA), which has said it will publish provisional findings this month or early next.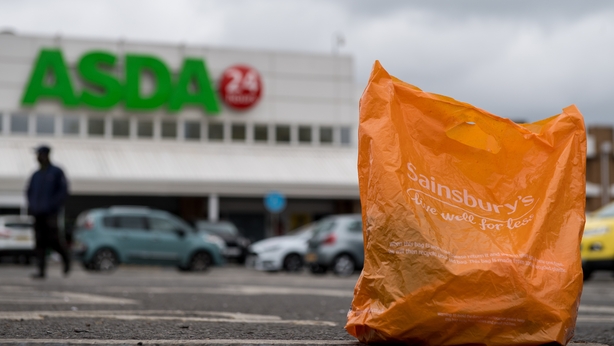 Coupe said his confidence in the deal being cleared had not diminished since it was announced in April. 
"It remains exactly the same. We remain confident in the case we are making to the CMA," he said. "In that respect nothing has changed." 
Before today's update, analysts were on average forecasting a pretax profit for Sainsbury's 2018-19 year of £634m, up from £589m in 2017-18. 
Coupe said a disorderly "no deal" Brexit would be hugely disruptive for Sainsbury's, which imports about 30% of its food from continental Europe. 
"No amount of stockpiling will mitigate that risk, simply because we don't have the capacity, and neither does the country, to stockpile more than probably a few days worth of stock," he said.