House prices are expected to rise by 5% this year, according to the latest report from property website MyHome.ie.
The report, which is published in association with Davy, predicts that robust demand and rising incomes will continue to push house prices higher once the uncertainty of Brexit has been resolved.
While asking prices nationally fell back by 0.9% and were unchanged in Dublin in Q4 - as per normal seasonal trends - the annual rate of inflation nationally was 6.1% while it was 3% in Dublin.
The median asking price for new sales nationally is €266,000, down €2,000 from the last quarter, while the price in Dublin remains unchanged at €375,000.
Newly listed properties are seen as the most reliable indicator of future price movements.
Author of this latest MyHome report, Chief Economist at Davy Conall MacCoille said "what we saw in 2018 was a slowdown in house-price inflation as affordability became stretched and the Central Bank lending rules prevented people from taking out ever higher levels mortgage debt to push prices up.
"Looking to 2019, of course you've got the uncertainty of Brexit - that will be sorted out one way or the other in the coming months.
"Once that passes the Irish banks now have fresh allocations of mortgage loans that can exceed the 3.5 times income multiple and in the background wage growth is running at about 2-3%."
On how various Brexit scenarios are likely to play out on the housing market, Mr MacCoille said it depends on what kind of Brexit happens.
"If we move into a transition period, or alternatively the UK revokes Article 50 or extends Article 50 - we effectively just have the status quo maintained for some time."
However, he added that "a hard Brexit would be very difficult for both the UK and Ireland and if you look at the UK, the Governor of the Bank of England had suggested UK house prices could fall by 30%.
"I don't think we'd see quite that in Ireland, but it would certainly be a very negative development."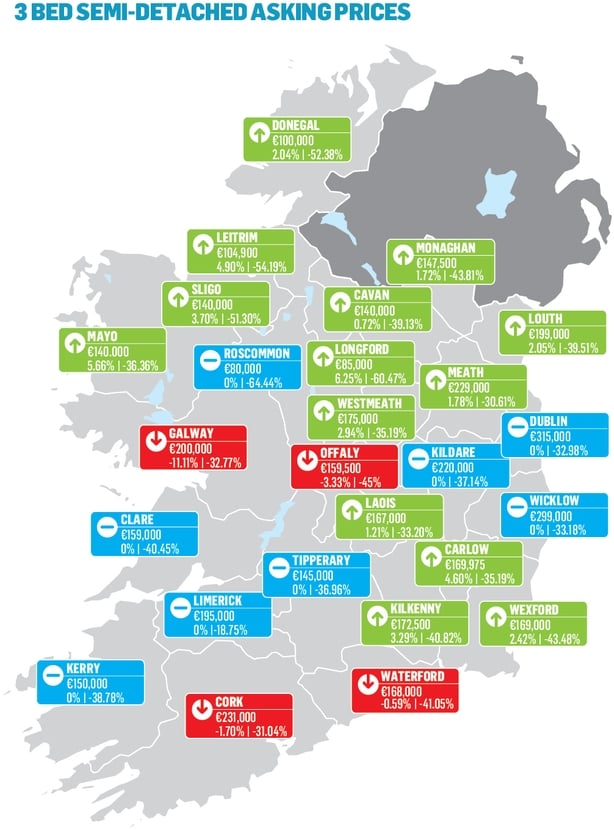 There have been various predictions that the Dublin housing market will contract and that the Central Bank's lending rules will lead to a degree of market stagnation.
The Davy chief economist said there indications are that there are no signs of these forecasts playing out in the housing market to any significant extent.
"In fact what looks to have happened is that around €18 billion will have been spent on Irish housing in 2018, that's up around 20% on the previous year.
"When we look at the final quarter of the year there was strong growth in residential transactions."
Mr MacCoille added "the level of home-building is still at its lowest level in 30 years, so we're seeing transaction activity pick up from a very, very low base.
"It's an improvement, it's no where near where we'd want it to be but we're not seeing any kind of impact from Brexit uncertainty holding back transactions yet.
A noticeable trend that's developed is house price growth growing much more aggressively outside of Dublin.
The MyHome report author said he sees this sustaining.
"If we take the median first-time buyer in Dublin, they are already borrowing around 3.5 times their incomes - that's at three or below in other parts of the country.
"Effectively people who are trying to buy houses in Dublin are getting those exemptions from the commercial banks.
"There is a lack of housing outside of Dublin ... I think we'll see people take on ever higher levels of mortgage debt chasing prices higher and that's why house price inflation outside Dublin is likely to continue rising, and of course affordability isn't as stretched as in the capital.