New figures from property consultants CBRE Ireland show that a total of 34 hotel deals - worth more than €730m - were competed during 2018.
This figure excludes hotel investment sales.
CBRE Ireland said the total for 2018 was considerably higher than the volume of sales completed in 2017.
---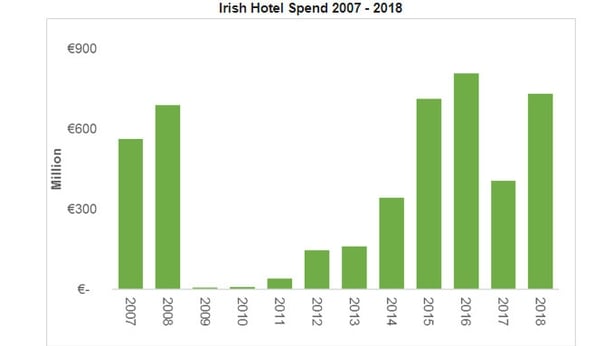 ---
Hotels that changed hands during the year included The Heritage Hotel & Spa in Killenard in Co Laois and the Connemara Coast Hotel in Furbo in Co Galway.
Marie Hunt, executive director and head of research at CBRE Ireland that 2018 was a very positive trading year for Irish hoteliers.
Ms Hunt said the hotel industry was boosted in no small part by healthy economic activity, increased air connectivity and record tourism numbers, with more than 11 million tourists having visited Ireland last year.
"Interestingly, while the number of UK visitor numbers was down year-on-year, this was more than compensated for by visitors from other jurisdictions on the back of increased marketing efforts from bodies such as Tourism Ireland and Fáilte Ireland," she added.