RTÉ's Europe Editor has been awarded the Outstanding Achievement Award at this year's UCD Smurfit School Business Journalist Awards.
Mr Connelly was recognised for his contribution to business journalism, in particular, his reporting on key events in Europe and how they impact on economic affairs, business and society.  
In presenting the award to the RTÉ journalist, Breege O'Donoghue, Chair of the panel of judges spoke of his ability to quickly digest the geo-political complexities of rapidly changing events such as the financial crisis and, more recently, Brexit.
She said Mr Connelly made such stories both comprehensible and vivid, incorporating human interest as a way of communicating the impact these events will have on business, economic affairs and society in this country and elsewhere.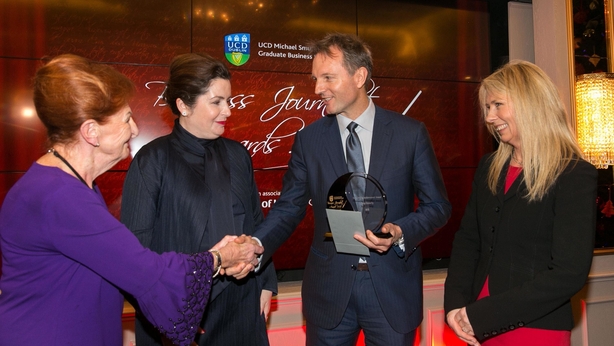 Just seven other journalists have been recognised with the Outstanding Achievement Award, including last year's winner, RTÉ's Industry and Employment Correspondent Ingrid Miley.
Other winners at today's ceremony in Dublin included Dearbhail McDonald, Shane Phelan and Samantha McCaughren of the Sunday Independent, who scooped the Business News Story award.
Stephen Kinsella from the The Sunday Business Post won Economic Commentator/Business Analyst of the year, while Business Feature went to Tom Lyons of the Sunday Business Post.
Fiona Reddan from the Irish Times was awarded the Specialist Business Reporter accolade and Laura Slattery from the same newspaper won the Business Interview category.
The Upcoming Journalist of the Year award was jointly shared by Peter Hamilton of the The Irish Times and Amy Molloy from the Irish Independent.
 
The awards were sponsored by Bank of Ireland.
---