Restrictions on out of town shopping centres and the provision of high speed broadband are two measures that need to be implemented urgently to arrest the decline of town centres.
This is according to a new report from the Society of Chartered Surveyors.
The report finds that increased costs, the abolition of town councils and high vacancy rates have all contributed to a "perfect storm" for regional towns.
The "Rejuvenating Ireland's small-town centres" report focused on 200 towns with populations of between 1,500 and 10,000.
It noted that while the country's population grew by 31% between 1996 and 2016, the growth was far from even. The population of Meath for example grew by 78%, Kildare by 65% and Laois by 60%.
However, in Sligo, Mayo and Kerry the figure was 17%.
Rural towns face perfect storm of poor broadband & out of town developments pic.twitter.com/cibuPpHFwh

— RTÉ Business (@RTEbusiness) November 30, 2018
A similar pattern emerged when looking at unemployment figures, the Society of Chartered Surveyors said.
Between 2011 and 2016 unemployment fell by 51% in Millstreet in Cork, by 44% in Ballina in Tipperary and 43% in Newmarket-on-Fergus in Clare. However, it increased or fell marginally in several towns in counties like Mayo, Longford and Sligo.
Today's report said the rapid growth of online retail sales and the increasing urbanisation of the country's population has been having a very negative impact on small towns for some time.
It urged the setting up of an Irish Towns Partnership in order to provide local leadership and help fill the void left by the dissolution of town councils.
It also called for a "proactive" approach to restoring buildings to residential use and tackling the problem of vacant buildings.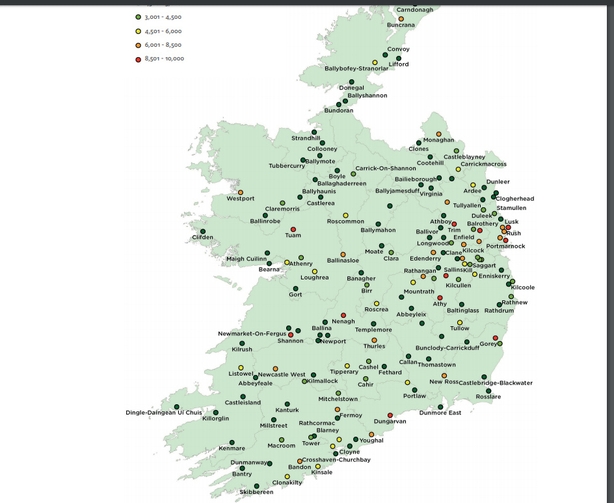 The author of the report, Chartered Surveyor and town planner Stephen Purcell from Future Analytics Consulting, said as a result many towns were ill-prepared for the economic crash when it hit home.

He also said that changes in consumer behaviour, specifically a move towards "experiential" shopping, a vacuum in local government and increased costs for businesses have helped create "the perfect storm" for regional businesses.
He said that consumers now spend less on goods and more on experiences such as food, beverages and services.
"As a result, attractive, vibrant, accessible locations draw visitors, while narrow main streets with lots of traffic and outdated or vacant buildings, deter them," he added.
He also said that the ability of local authorities to influence the direction of development and the fortunes of their own towns has been dramatically reduced since town councils were dissolved in 2014.
"As a result, decision making has become centralised or removed from where it is required. Lack of funding has also led to a loss of essential local authority staff such as Town/Municipal architects meaning there is no "champion" to advise on local development," the town planner said.
"Excessive and inflexible rates valuations, increased insurance costs and additional costs such as bank levies, water charges and other regulatory compliance measures have all contributed towards lower margins for businesses," he added.