Police have searched the offices of all the members of Deutsche Bank's board as part of an investigation into money laundering allegations linked to the Panama Papers, a source told Reuters.
Shares in Germany's largest bank fell 3% and touched a record low as a raid that began yesterday at the bank's Frankfurt headquarters extended into a second day.
Deutsche has said it is cooperating with investigators and declined further comment today.
Deutsche Bank shares have lost around half of their value this year, with the company now worth only around €17 billion.
The raids come as Deutsche Bank tries to repair its tattered reputation after three years of losses and a list of financial and regulatory scandals.
Christian Sewing, appointed chief executive in April to help the bank rebuild, has trimmed its US operations and reshuffled its management board, but revenue has continued to slip.
Investigators are looking into the activities of two unnamed Deutsche Bank employees alleged to have helped clients set up offshore firms to launder money, the prosecutor's office has said.
The inquiries focus on events from 2013 to this year.
This week's events raise the stakes of a regularly scheduled meeting of the bank's supervisory board planned for December 4.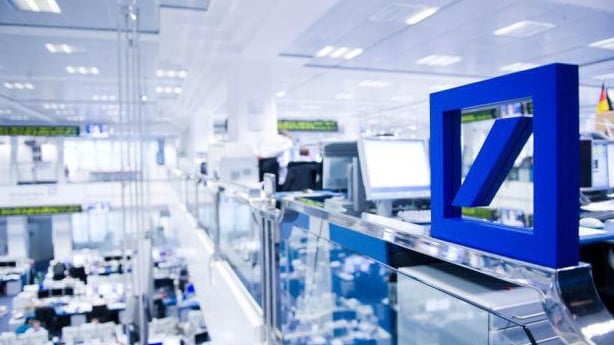 The prosecutor said yesterday the investigation had been triggered after investigators reviewed information in the Panama Papers, consisting of millions of documents from Panamanian law firm Mossack Fonseca leaked to the media in April 2016.
Around 170 police officers, prosecutors and tax inspectors began the raid yesterday, seizing written and electronic documents. Only one police car was visible outside the bank's headquarters this morning.
Deutsche Bank's controls that aim to prevent money laundering have caught the attention of regulators on both sides of the Atlantic.
Schick, who is also chairman of Finanzwende, a grassroots financial watchdog initiative, pointed the finger at Germany's financial market regulator, BaFin.
BaFin said its critics had misunderstood the situation, and that supervisors and prosecutors played diffferent roles.
In January, Germany's financial market regulator BaFin's president Felix Hufeld said the agency had found no evidence of substantial breaches of money laundering rules by the banks named in the Panama Papers.
In September, BaFin ordered Deutsche Bank to do more to prevent money laundering and "terrorist financing," and appointed KPMG as a third party to assess progress.