Growth in China's vast manufacturing sector stalled for the first time in over two years in November as new orders slowed.
The figures will pile pressure on Beijing ahead of crucial trade talks between Presidents Xi Jinping and Donald Trump this weekend. 
If the high-stakes negotiations fail, Trump is widely expected to proceed with a sharp tariff hike on Chinese goods in January, which would further strain China's slowing economy and heighten risks to global growth. 
Today's downbeat factory activity reading suggested a flurry of stimulus measures by Beijing in recent months has yet to be felt.
It will add to views that business conditions in China will likely get worse before they get better. 
The official Purchasing Managers' Index (PMI), released by the National Bureau of Statistics (NBS), fell to 50 in November, missing market expectations and down from 50.2 in October. 
It was the weakest reading in 28 months. 
Analysts surveyed by Reuters had forecast little change from October's already marginal growth levels. 
The 50-point mark is considered neutral territory, indicating no expansion in activity or contraction on a monthly basis. 
The Trump administration has pointed to growing signs of economic weakness in China and its slumping stock market as proof that the US is winning the trade war. 
Trump sent mixed signals this week about the prospects for a trade deal with China, saying an agreement was close but he was not sure if he wanted one right now.
Trump and Xi will have dinner on Saturday on the sidelines of a G20 summit in Buenos Aires, their first meeting since the world's largest economies began imposing tariffs on each other's goods earlier this year. 
So far, neither side has indicated any intention of making major concessions. 
In a commentary accompanying the latest data, the NBS said China's exports and imports faced growing downward pressure with increasing uncertainty stemming from trade frictions.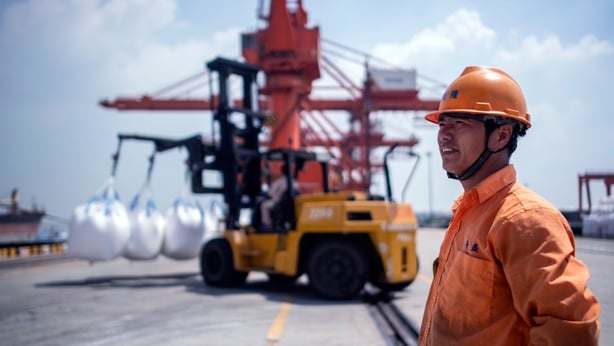 Even if a trade ceasefire is reached, the latest data suggested China's economy will continue to weaken in coming months, with new orders faltering both at home and abroad. 
The new orders sub-index - an indicator of future activity - declined to 50.4 from 50.8, with export orders shrinking for a sixth month in a row. 
Reflecting growing concerns over domestic demand, Chinese factories continued to cut back on their import orders for foreign goods last month. Production growth remained modest but was slightly weaker than in October. 
Adding to pressure on manufacturers, factory-gate prices fell sharply amid softer demand, hurting profitability for sectors from petroleum processing to ferrous metal smelting. 
The factory-gate price sub-index pointed to a contraction for the first time since March. 
Profit growth for China's industrial powerhouses also cooled for a sixth month in a row in October.