The whistleblower who helped reveal suspected money laundering involving Danske Bank told Denmark's parliament today that the bank had not heeded his warnings and had later offered him money to keep quiet.
Suspicious payments totalling €200 billion through Danske Bank's Estonian branch between 2007 and 2015 have sparked investigations in Denmark, Estonia, Britain and the US.
The scandal has also cost the chief executive and chairman of Denmark's largest lender their jobs.
Howard Wilkinson, the head of the bank's trading unit in the Baltics from 2007 to 2014, said that Danske Bank's management had not taken his suspicions of money laundering seriously and he did not now expect investigations to lead anywhere.
"We are now here at the back-end of 2018 talking about dirty money from 2007 to 2015, there is no chance in the world that any of that money is ever going to be tracked down and that any criminals lose a single cent," he said.
Wilkinson said he had received a waiver from Danske Bank on October 29 allowing him to speak to US authorities.
Danske Bank has acknowledged that its money laundering controls in Estonia were insufficient, but in a report issued in September it said the board, the chairman and the chief executive had not breached their legal obligations.
"In April 2014 it became clear that the bank didn't intend to do anything," the former Danske Bank employee said, referring to earlier whistleblower reports.
"There was a curious lack of interest at senior management level."
In Danske Bank's own report published it said the first whistleblower report, which was titled "Whistleblowing disclosure - knowingly dealing with criminals in Estonia Branch", was sent to its executive board, group compliance and internal auditor on December 27, 2013.
The bank's former chief executive Thomas Borgen stepped down following the report, saying that although he was "personally cleared from a legal point of view" he held "the ultimate responsibility".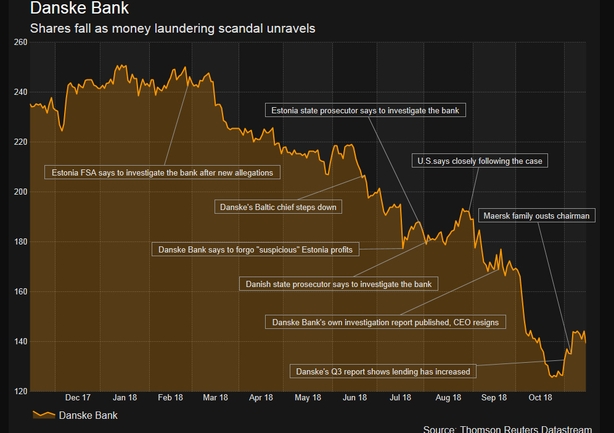 The report concluded that no "red flags" had been shared with Borgen when he held the ultimate executive responsibility for the Estonian branch between 2009 and 2012.
After the bank's Internal Audit's initial findings in February 2014, Borgen recommended an immediate stop to all new business and a controlled closing-down of existing transactions, the bank's report said.
The scandal has emerged at the same time as a major government tax scandal and a fraud case in the Danish ministry for social affairs, undermining confidence in once trusted institutions and sparking calls for action from lawmakers.
Wilkinson also told parliament that the Danish FSA financial regulator did not contact him before issuing a report on the money laundering allegations in May 2018. The FSA was not immediately available for comment.
He said Denmark should formally investigate the FSA's regulation of Danske Bank in relation to its Estonian branch from 2007 onwards, including the conduct of senior officials.
In its decision from May, the financial regulator said it had not found sufficient basis for launching cases against members of Danske Bank's management, based on its rules which decide if executives are "fit and proper" for their posts.