Sales at Marks & Spencer fell in the first half of its financial year, with demand for clothing and food hit by disruption from the latest attempt to reinvent the famed retailer. 
After more than a decade of failed turnaround programmes, M&S is now targeting sustainable, profitable growth in three to five years by shutting less successful stores. 
It warned today that sales were unlikely to improve soon. 
"Trading conditions remain challenging and the headwinds from the growth of online competition and the march of the discounters remain strong in all our markets," it said.
M&S launched its latest turnaround plan last November, two months after retail veteran Archie Norman joined as chairman to work alongside chief executive Steve Rowe, a company lifer. 
Like other established retailers, M&S is trying to deal with the shift of clothing sales online along with unrelenting price competition from supermarkets and discounters. 
Pressure on consumer spending, a shift in expenditure towards experiences and away from clothing, as well as unhelpful weather trends have also hampered efforts to revive its business. 
Results today showed that its previously reliable food business was particularly weak, with like-for-like sales down 2.9% - below expectations of a 2% fall and reflecting the need for price cuts. 
Gross margin in the division fell 25 basis points. 
Sales in its clothing and home division - long the UK's first port of call for school uniforms, interview suits and underwear - fell 1.1% on a like-for-like basis while its gross margin was down 20 basis points.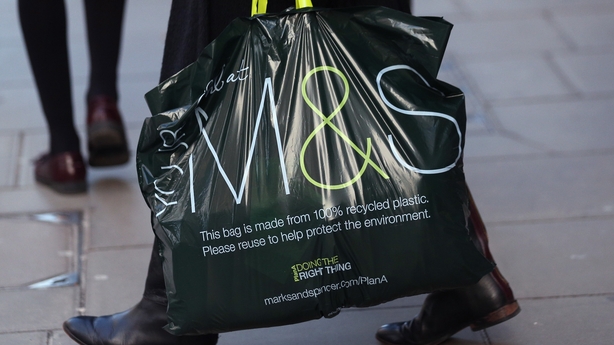 "Against the background of profound structural change in our industry, we are leaving no stone unturned and reshaping our business, its organisation and culture," chief executive Steve Rowe said.
The group said its full-year outlook was broadly unchanged and it maintained its interim dividend however as cost cuts helped underlying profit to rise by 2% to £223.5m in the six months to September 29.
This was ahead of analysts' average forecast of £203m. 
M&S has previously attracted more affluent shoppers who pick up meal deals and wine on their way home. 
But analysts said that approach was now facing competition from online competitors such as Hello Fresh, Deliveroo and Just Eat.
The latest M&S five-year programme of store closures and relocations aims to cut excess selling space in its clothing business; increased technology investment and includes moves to make the misfiring food business more competitive. 
M&S is targeting 100 British store closures by 2022, as it strives to make at least a third of clothing and home sales online. 
It has said it could close even more as it manages its property estate more pro-actively.