Aer Lingus is proposing to grow its North Atlantic fleet from 17 to 30 aircraft over the next five years.
It announced the plans during its parent group's - International Consolidated Airlines Group - capital markets day.
Outgoing Aer Lingus CEO Stephen Kavanagh said the airline's ambition is to be the leading value carrier across the North Atlantic.
To achieve this, the Aer Lingus CEO said the airline is planning a brand new identity, new uniforms and "dramatically" increased marketing spend in North America.
''We plan to grow our A330 fleet to 16 aircraft (from 13 in 2017) and invest in 14 A321LRs to provide capacity to grow both across the Atlantic and within Europe, continuing to build our network and our hub at Dublin enabled by investment by the DAA in airport infrastructure," Mr Kavanagh said.
Aer Lingus currently has a transatlantic seat capacity of 2.8 million a year.
Mr Kavanagh said the increase in aircraft would see seat capacity grow to 4.7 million a year.
This "would be transformative for the airline, and have a hugely positive impact on Irish inbound tourism," he stated.
Meanwhile, IAG said most of its financial goals for 2019-2023 were the same as those made in a long-term plan last year.
The airline group said it was sticking to an upbeat target to post an operating profit margin of between 12-15%.
The group owns Aer Lingus, British Airways, Iberia and Vueling.
It issued a confident outlook today despite a sharp rise in the oil price this year, as it continues to outshine rival European airlines Lufthansa and Air France-KLM.
IAG gave guidance that average earnings per share would grow more than 12% per year from 2019 to 2023, in line with guidance it offered last year.
It raised its outlook for core annual earnings (EBITAR) to an average forecast of around €7.2 billion from €6.5 billion.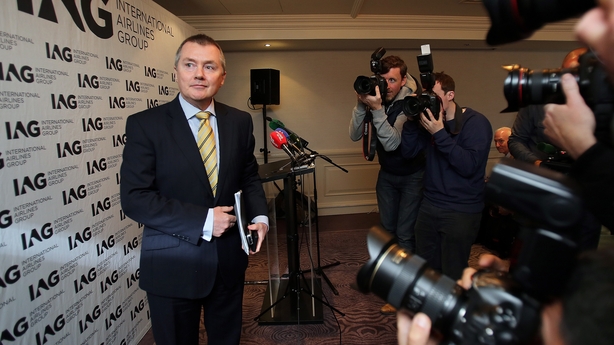 IAG chief executive Willie Walsh and other senior management presented the outlook to investors in London today.
Shares in IAG were up 2.3% in mid-morning trade after climbing as much as 5%. The stock is at about the same level as it was a year ago, outperforming Lufthansa and Air France whose shares are both down by about a third in 12 months.
The price of jet fuel has climbed more than 30% compared to 12 months ago, according to the International Air Transport Association (IATA).
IAG said last week that for 2018 annual profit would increase by €200m. That compared to Lufthansa's outlook for adjusted earnings (EBIT) this year to show a slight fall from 2017's record.
Air France-KLM has spent the year struggling with costly strikes before it finally agreed a pay deal with unions in October.
It has faced tough competition from low-cost carriers like Ryanair and EasyJet, as have IAG and Lufthansa, but Air France has been unable to overhaul costs and services the way IAG and Lufthansa have.
In its outlook today, IAG raised its forecast for capital expenditure to €2.6 billion a year from €2.1 billion a year, and said it would grow available seat kilometres, a measure of capacity, by 6% a year, up from 5% previously.
It gave no further details on the capacity growth, which will include its fast-growing low-cost long-haul carrier Level and Level's new short-haul operation based at Vienna.
IAG did not provide an update on its plans with regard to Norwegian, the carrier which rejected two IAG takeover approaches this year.