The Bank of England hinted at slightly faster future rises in interest rates if Brexit goes smoothly, but warned all bets were off if next March brought a "disruptive" departure from the EU.
The Bank of England's nine rate-setters voted unanimously to hold rates at 0.75% today, as expected by economists in a Reuters poll.
This comes after raising rates in August for only the second time since before the financial crisis.
Bank of England Governor Mark Carney said a disruptive no-deal Brexit was not the bank's main assumption but if there was a shock to the economy, it was not possible to say if rates would need to rise or fall in response.
Brexit is dominating the outlook for the world's fifth-largest economy, which has seen growth slow since the referendum decision in June 2016 to leave the European Union.
Most economists do not expect rates to rise again until mid-2019.
"Since the nature of EU withdrawal is not known at present, and its impact on the balance of demand, supply and the exchange rate cannot be determined in advance, the monetary policy response will not be automatic and could be in either direction," Mark Carney told a news conference.
The Bank of England cut interest rates and ramped up its bond-buying programme after the shock referendum vote, but Mark Carney cautioned against assuming it would do the same in the event of a no-deal Brexit.
One option, he said, would be to extend the horizon for returning inflation to the Bank of England's target, a measure which would suggest slower interest rates hikes.
A disruptive Brexit would probably cause sterling to fall and push up inflation. Combined with a hit to supply chains and possible trade tariffs, that would argue for raising rates.
The Bank of England said policymakers would need to balance the hit to growth from lost trade, uncertainty and tighter financial conditions. That would normally make a case for lower rates.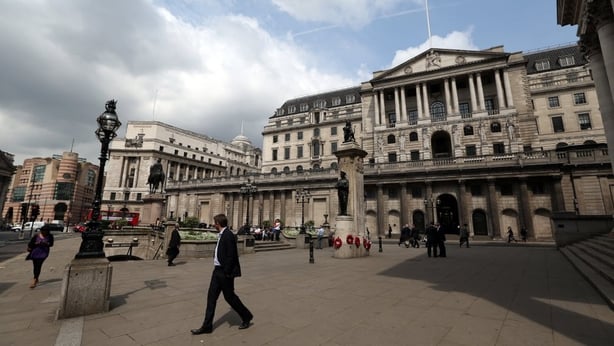 The bank said consumer spending performed better than it had expected but businesses were holding back on investment until there was clarity about Brexit.
Prime Minister Theresa May has yet to secure a transition deal to ease Britain's exit from the EU.
There has been progress towards an agreement giving London's dominant financial centre basic access to EU markets, two British officials said today.
Assuming Brexit goes smoothly, the economy was likely to continue to grow by around 1.75% a year, the Bank of England said.
This is some way below the rate of above 2% that was typical before Britain voted to leave the EU, but the bank said the economy was at full capacity and inflation would take three years to drop from 2.4% now to its 2% target.
The economy was expected to start running above capacity late next year, sooner than the Bank of England had forecast in August, creating inflation pressure.
The bank's inflation worry comes despite it pencilling in almost three quarter-point interest rate rises over the next three years, compared with just over two in forecasts that accompanied August's rate rise.
The assumptions are based on market pricing, but they give some indication of how fast the bank thinks borrowing costs will need to rise.
Mark Carney, asked by a reporter whether financial markets had priced in enough rate hikes, pointed to the Bank of England's forecast that inflation would be a bit above its target in two years' time.
That suggested he thought investors were being a bit too cautious about the pace of rate hikes.
Despite the lack of slack in the economy and recent faster-than-expected rises in wages, the Bank of England kept its medium-term pay forecasts unchanged, seeing growth of 3.25% by the end of next year and 3.5% in late 2020.