Royal Bank of Scotland has taken a £100m impairment provision to account for Brexit uncertainty, in the first concrete sign this is clouding the outlook of a big British bank. 
The provision means RBS is concerned that its customers might become less able to pay their debts when Britain leaves the European Union in five months' time. 
While HSBC put aside $245m its half-year results to account for greater economic uncertainty, RBS is the first big UK bank to link the move to Brexit. 
CEO Ross McEwan said RBS was taking into account the possibility of more negative outcomes from the Brexit negotiations, under new accounting standards that require banks to be better prepared for possible future losses. 
"There's a lot more uncertainty in the marketplace until we get agreement, and that's what this is reflecting," Ross McEwan told reporters on a call, referring to the provision. 
The fortunes of major lenders like RBS - which owns Ulster Bank here - are closely intertwined with the health of UK consumers and businesses. 
The bank has been less upbeat about the consequences of Brexit than some of its peers, with McEwan warning recently that Britain could slip into recession if it crashes out of the EU with no deal. 
Bank of England Deputy Governor Sam Woods said this week that banks in Britain must hold enough cash to withstand any disorderly Brexit hitting financial markets. 
RBS's rival Lloyds said yesterday it was confident that negotiations between London and Brussels could still deliver a withdrawal agreement, which remains elusive even after years of tense talks. 
Both banks said that they had seen no sign borrowers' ability to service their loans had deteriorated so far.
Ross McEwan said he had participated in a call with Prime Minister Theresa May and executives last week and received an optimistic signal that a Brexit deal could be reached.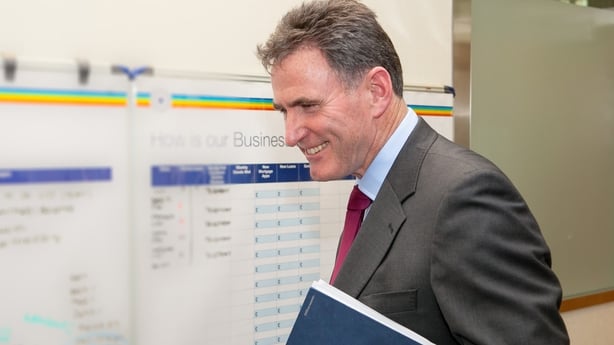 But with the March 2019 deadline fast approaching, businesses remain in the dark about how they will interact with EU markets and the impact Brexit will have on the UK economy. 
The provision, announced with RBS's third quarter results, took the bank's impairments for the period to £240m, up from £143m in 2017. 
It also reported a pre-tax profit of £961m and an attributable profit of £448m. 
This was below the £507m expected by analysts, according to a bank-compiled average of their estimates.
RBS reported a common equity tier one capital ratio of 16.7%. 
That leaves the bank's capital well above its target of 13%, even after it paid its first dividend in a decade and a hefty fine to US authorities earlier this year. 
The bank took another £200m provision for mis-sold payment protection insurance - Britain's costliest such scandal that has seen RBS alone pay out over £5 billion. 
It gave no clue as to its future dividend policy - information shareholders are hungry for after being starved of payouts for 10 years.