European Central Bank chief Mario Draghi has said risks to the eurozone outlook remained "broadly balanced", despite global trade uncertainties and geopolitical concerns.
His comments came as the bank, as expected, kept its policy unchanged, staying on course to end bond purchases by the end of December and to raise rates sometime after next summer.
With inflation rebounding and growth on a five-year run, the ECB has been removing stimulus for much of this year.
This is despite more recent growth indicators appearing to show that the expansion is running out of steam and risks to the outlook are mounting.
But with the bank having already exhausted much of its firepower the threshold for any extension of its stimulus is high, requiring a major shock rather than the gradual slowdown that has characterised this year.
"Risks surrounding the euro area growth outlook can still be assessed as broadly balanced," Mr Draghi told reporters in Frankfurt.
"At the same time, risks relating to protectionism, vulnerabilities in emerging markets and financial market volatility remain prominent."
Fears of an economic slowdown have risen as markets fret over the possibility of a no-deal Brexit, a budget row between Italy and the European Union, and trade tensions sparked by US President Donald Trump's protectionist tendencies.
A closely watched survey today showed that business growth in the 19-nation eurozone fell in October to its lowest point in two years, hit by falling exports.
Mr Draghi acknowledged that recent hard and soft data was "weaker than expected", but said it was not enough to undermine confidence in eurozone growth and rising inflationary pressures.
The ECB last month said it expects eurozone inflation to hit 1.7% in 2018, 2019 and 2020 - nearing the bank's price growth target of close to but below 2%.
"The assessment of the governing council was: yes, there is a weaker momentum, yes, there are weaker survey data coming out, and maybe some more expected in the future.
"But is this enough of a change to make us change the baseline scenario? The answer is no."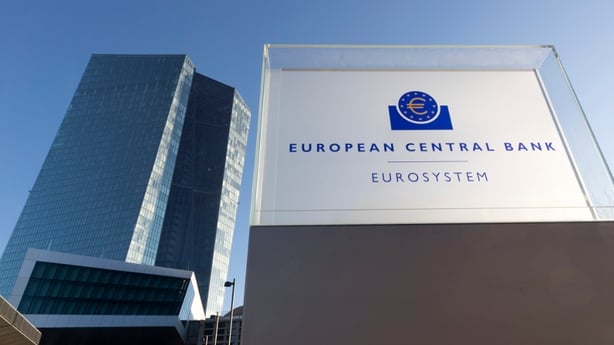 Quizzed on how worried the ECB was about Italy's standoff with Brussels over Rome's purse-bursting budget, Mr Draghi said he did not "have a crystal ball" but said he was "optimistic" an agreement would be found.
In an unprecedented move, Brussels has given Rome three weeks to revise the budget which it says breaks the bloc's financial rules.
The spat has revived fears over Italy's huge debt mountain, which at some 130% GDP is second only to Greece's in Europe.
The populist Italian government's insistence on ramping up spending has sent yields on Italian bonds rising, making the country's borrowing costs more expensive.
But so far, Mr Draghi said he saw little evidence of other countries being affected by Italy's woes.
"There may be some spillovers but they're limited. That's the current situation and I will keep you posted as the situation will evolve," he said.
With today's decision, the ECB's rate on bank overnight deposits, which is currently its primary interest rate tool, remains at -0.4%.
The main refinancing rate, which determines the cost of credit in the economy, remained unchanged at 0% while the rate on the marginal lending facility - the emergency overnight borrowing rate for banks - remains at 0.25%.