Struggling British department store chain Debenhams is closing 50 of its underperforming stores, putting about 4,000 jobs at risk, after it reported a record full-year loss of nearly £500m. 
Its chief executive Sergio Bucher said he was "taking decisive steps to strengthen Debenhams" in a tough retail market. 
"We are taking tough decisions on stores where financial performance is likely to deteriorate over time," he said. 
Bucher, a former Amazon executive, is trying to keep Debenhams relevant to British shoppers who are increasingly buying online and spending less on clothes. 
The cuts are deeper than Bucher's original plan to close 10 of the chain's 166 UK stores, downsize others and renegotiate leases and rents on its estate. 
"We want to have fewer but better stores, with a better shopping experience," he said today. 
"We want to grow our online business and we want the whole of the organisation to be more profitable," the CEO added.
Debenhams Irish business exited examinership in 2016, having entered the process after it said that high rents at its 11 Irish outlets were making its business here unsustainable.
Debenhams has not yet announced the 50 stores it plans to close over the next three to five years.
Debenhams shares, down 80% in the past year, touched a new low of 8 pence, valuing the company's equity at about £100m, before gaining 16%. 
Analysts said Debenhams was in "survival mode" but the more aggressive store closures should be well received. 
"However, for Debenhams to offer an attractive long-term equity story, we also need to see some prospect of an improvement in underlying trading, and department store trading conditions remain very challenging," they said. 
Debenhams, which has issued three profit warnings this year, wrote off £512.4m relating to leases and goodwill, leading to a statutory loss of £491.5m, the biggest in its 240-year history.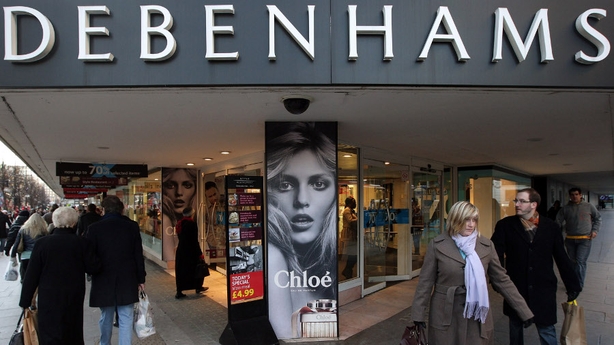 Underlying pre-tax profit for the year to September 1 slumped 65% to £33.2m, a result that Bucher said reflected "a tough year for retail". 
"Debenhams remains a strong and trusted brand with 19 million customers shopping with us over the past year," Bucher said. 
Debenhams is not the only long-established retailer that has suffered on the high street in Britain and beyond. 
BHS went bust in 2016, House of Fraser was bought out of administration in August by Mike Ashley's Sports Direct and market leader John Lewis has warned on profit. 
In the US, Sears, a retailer that once dominated shopping malls, filed for bankruptcy this month. 
Bucher is trying to make Debenhams' stores more attractive to shoppers with product and store improvements, such as enhancing its beauty and food offers. 
But the consumer environment is not helping him. 
UK shoppers' budgets have been squeezed and the money they are spending is increasingly going towards holidays, entertainment and online offers. 
Debenhams said its like-for-like sales fell 2.3%, reflecting weak demand for fashion and make-up, both core segments for the retailer. 
The clothing market declined in the second half of the year, Debenhams said, citing data from industry analyst Kantar, but it maintained market share and grew in womenswear, where it is most advanced in improving its ranges. 
Bucher said he would focus investment on 100 key stores, as well as growing online sales to around 30% of the total from around 20% currently. 
He is also targeting further cost savings of at least £30m, reducing capital expenditure to about £70m - half the level of last year - and scrapping the dividend to bolster the group's balance sheet. 
The company said its net debt increased to £321.3m from £275.9m a year earlier.