The European Commission has rejected Italy's draft 2019 budget because the plan breaks EU rules in an "unprecedented" way.
The Commission has asked Rome to submit a new budget within three weeks or the country would face disciplinary action. 
The decision by the European Union executive arm is the first time it exercises the power, obtained during the sovereign debt crisis in 2013, to send back a budget of a euro zone country that violates the rules. 
"Today, for the first time, the Commission is obliged to request a euro area country to revise its draft budget plan," Commission Vice President for the Euro Valdis Dombrovskis told a news conference. 
"But we see no alternative than to request the Italian government to do so. We have adopted an opinion giving Italy a maximum of three weeks to provide a revised draft budgetary plan for 2019," Dombrovskis said. 
The Commission said that the revised budget it expected to receive from Italy should be in line with the recommendation of EU finance ministers from July 13. 
Italy's deputy prime minister Luigi Di Maio said the Commission's unprecedented rejection was fully expected and called for the EU executive to have "respect" for Italians and their government.
 
"This is the first Italian budget that the EU doesn't like. I am not surprised. This is the first Italian budget that was written in Rome and not in Brussels," Mr Di Maio said on Facebook.
 
Separately, a spokeswoman for the economy ministry in Rome defended the government's expansionary budget and said Italy stuck by its position that the only way to cut the country's public debt was by boosting economic growth.
In July, EU ministers asked Rome to cut its structural deficit, which excludes one-offs and business cycle swings, by 0.6% of GDP. 
The plan rejected by the Commission increases that deficit by 0.8% of GDP. 
Italy sent a letter to the Commission yesterday, acknowledging that its draft budget was in violation of EU rules, but insisting it would still go ahead with it. 
"The Italian Government is openly and consciously going against the commitments it made," Dombrovskis said. 
Dombrovskis said that Italy had the second highest debt to GDP ratio in the EU at 131.2% in 2017 and the highest debt servicing costs in Europe.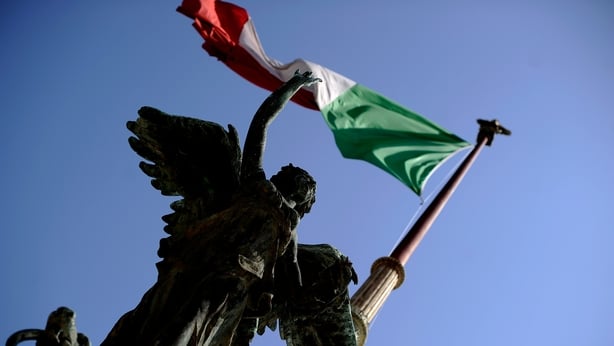 "Italy's interest expenditure stood in 2017 at around €65.5 billion or 3.8% of GDP, which was broadly the same amount of public resources devoted to education," the Commission said. 
Italy believes that its additional spending measure would boost economic growth, helping reduce the debt to GDP ratio. 
But the Commission said the growth assumptions were overly optimistic, which also made Italy's debt reduction questionable. 
"Experience has shown time and again that higher fiscal deficits and debt do not bring lasting growth. And excessive debt makes your economy more vulnerable to future crisis," Dombrovskis said. 
"Therefore, if looser fiscal policy affects confidence, it can actually have the opposite effect to growth," he said. 
Dombrovskis noted, that unless Rome changes its draft budget in the next three weeks, the Commission was ready to open a disciplinary process against the country, called the excessive deficit procedure, based on the lack of progress in cutting debt - an obligation under EU law. 
"In May, the European Commission did not propose opening an Excessive Deficit Procedure related to debt, mostly because of Italy's broad compliance with its commitments," Dombrovskis said of a procedure that could entail fines. 
"The current plans are a material change, which may require a reassessment of that conclusion. The ball is now in the court of the Italian government," he said.
Earlier, the head of the euro zone's rescue fund said that Italy's free-spending fiscal plans were a reason for concern, but added there was no cause for panic as contagion to other European countries had so far been "very limited".
"We are worried about Italy," Klaus Regling told a news conference, saying that the Italian government's fiscal plans were a risk. 
But he stressed that Italy's debt problems were different from those of Greece, which needed three euro zone bailouts over the last decade.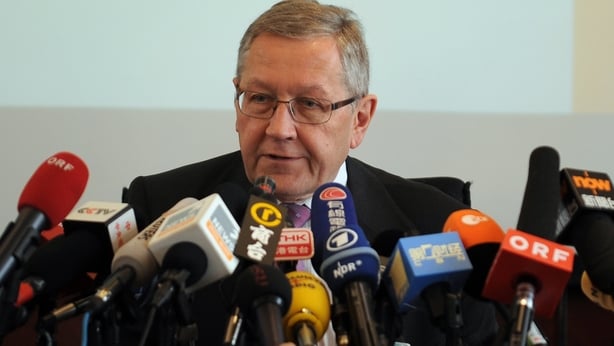 He warned of growing problems faced by Italian banks due to higher yields on Italy's debt, but underlined the country's banking woes were different from those experienced by Spanish lenders when Spain asked the European Stability Mechanism rescue fund a bailout in 2012. 
"In Italy itself there is contagion to the banking sector" because of the falling value of Italy's debt held by lenders, Regling said.
He added that this has been reflected in banking funding costs. 
Regling also said that "one or two" Greek banks had also partly suffered of contagion from Italy, but said problems at these banks, which he did not name, were also caused by very high levels of bad debt.