China's third quarter economic growth slowed to its weakest pace since the global financial crisis, and missed expectations, as a campaign to tackle debt risks and the trade war with the US began to bite. 
The Chinese economy grew 6.5% in the third quarter from a year earlier, slower than the second quarter, the National Bureau of Statistics said today. 
Analysts polled by Reuters had expected the economy to expand 6.6% in the three months from July to September. 
The GDP reading was the weakest year-on-year quarterly growth since the first quarter of 2009 at the height of the global financial crisis. 
On a quarterly basis, growth slowed down to 1.6% from a revised 1.7% in the second quarter, in line with expectations of 1.6% growth.
Importantly, second quarter sequential growth was revised down from the previously reported 1.8%, suggesting the economy carried over less momentum into the second half than many analysts had expected. 
Recent economic data have pointed to weakening domestic demand with softness across factory activity to infrastructure investment and consumer spending, as a multi-year crackdown on riskier lending and debt has pushed up companies' borrowing costs. 
Economists expect China's full-year growth to come in at 6.6% this year - comfortably meeting the government's 6.5% target - and 6.3% next year. 
Beijing and Washington have slapped tit-for-tat tariffs on each other in recent months and plans for bilateral trade talks to resolve the dispute have stalled, triggering a domestic equities rout and putting pressure on China's already softening economy and weakening currency. 
China's exports unexpectedly kicked into higher gear in September, largely as firms front-loaded shipments to dodge stiffer US duties.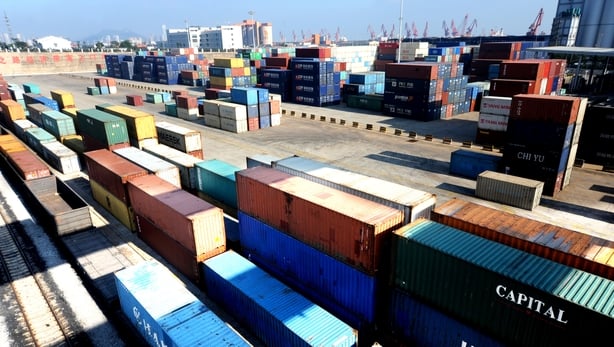 But the stronger sales drove a record trade surplus with the US that could exacerbate the already-heated dispute between the two economic superpowers.
Separate data showed China's factory output growth weakened to 5.8% in September from a year earlier, missing expectations while fixed-asset investment expanded at a slightly faster-than-expected 5.4% in the first nine months of the year. 
The factory output reading was the weakest since February 2016. 
China's retail sales rose 9.2% in September from a year earlier. 
Faced with a cooling economy, stock market wobbles and a yuan currency under pressure, policymakers are shifting their priorities to reducing risks to growth by gradually easing monetary and fiscal policy. 
Last week China's central announced the fourth reserve requirement ratio (RRR) cut this year, stepping up moves to lower financing costs amid concerns over the economic drag from the trade dispute with the US.