AIB chief executive Bernard Byrne has said the market for mortgages would be smaller than expected in 2018, but the shortfall would be erased in the medium term as newly built property becomes available for buyers.
The bank is the largest provider of mortgages in the country with around 32% of the market, a share it expects to maintain as the market grows. 
"The market last year was €7.3 billion market in terms of new mortgages and the expectation was it would go to €9 billion, which is a consensus across most houses," Bernard Byrne said in a podcast posted by the Irish Times. 
"I think that might be slightly under threat, it might not reach €9 billion at this stage," he said. 
"The medium-term position, on the other hand, has been uplifted in terms of expectations. Rather than being a €10-12 billion market in the medium term, I think it's closer to €15 billion market.
"That's on a three to four year basis," he added.
Bernard Byrne explained that there was a shortfall because there were not enough new houses coming to the market, and because Central Bank lending rules designed to limit price inflation were cooling the market. 
"Macro prudential rules from the Central Bank perspective are working, in the sense that one of their objectives was to ensure price inflation didn't run wild while the supply was too short," he said. 
"It's a sensible strategy to reduce the number of mortgage ready customers when there aren't properties available because it drives up pricing," the AIB boss added. 
Most borrowers are required to have a deposit of 20% when taking on a mortgage and the amount that can be borrowed is strictly limited to 3.5 times income. 
In the medium term, Byrne sees the market growing faster than current expectations as builders make new homes available to meet an annual requirement of around 35,000 homes, in addition to pent up demand for around 50,000 homes.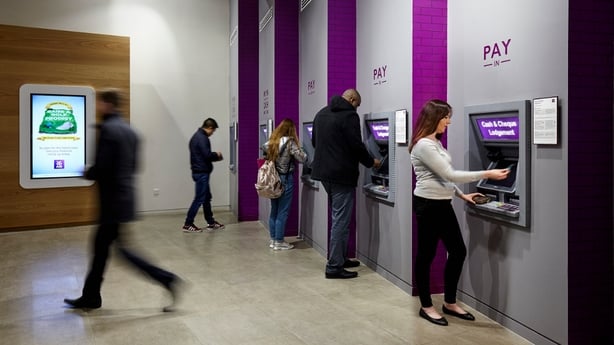 Asked if the state, which owns 71% of AIB's outstanding shares, had missed an opportunity to reduce its stake given a fall of almost 20%t in the bank's share price this year, Bernard Byrne he said any selldown was a decision for the government.
"Right now for a series of reasons investors are risk-off in Europe and risk-off in banking but those issues will come back. Ultimately the government needs to decide on strategy for the selldown piece," Mr Byrne said.
"The timing issue is really for Government," he added. 
Pressed on the next possible window for a state sale, Bernard Byrne said the state could only sell in windows that follow the publication of results, and market volatility meant a sale was unlikely in the coming weeks when the bank publishes its third-quarter update.
The next window is not until 2019 at the end of February or in early March when the bank releases full year results. 
Bernard Byrne said the bank was experiencing a slightly higher attrition rate among senior executives than normal and "that is accelerating" amid lots of interesting financial services firms coming to Dublin as a result of Brexit.