Shares in Irish based food group Greencore slumped by 9% yesterday after it said it was selling its entire US operations to an affiliate of Hearthside Food Solutions for $1.075 billion.
The deal comes just two years after the company made a major acquisition in a bid to transform its US operations.
Shares were trading at 189 pence at the close of business in London last evening.
Greencore's US business produces sandwiches, salads, sushi and deserts for customers including Starbucks and the 7-Eleven convenience store.
In 2016 it purchased Illinois-based Peacock, which produces frozen breakfast sandwiches, snack kits for children and salad packs, among other items, for $747.5m.
The new owner of Greencore's US business, Hearthside, is a US contract food manufacturer.
It is one of the largest co-manufacturers and suppliers of snack products to large consumer packaged goods companies in the US with 25 facilities across the US and the Netherlands.
Greencore said the proceeds of the deal will be used to strengthen its balance sheet and it intends to declare a special dividend of 72 pence per share.
Greencore has experienced some difficulty in the US market in recent years, forcing it to restructure its operations there.
It said the deal is set to be completed by late November 2018 and is conditional on approval of the company's shareholders and US clearance.
Greencore CEO Patrick Coveney said the company believe that the proposed sale of its US operation represents a compelling and immediate realisation of value for its shareholders.
"We have always had a firm conviction on the underlying value and growth prospects of our US business and believe that this offer fully reflects that," he said.
In an interview with Reuters, Patrick Coveney also said that the offer for the US business was unsolicited and Greencore had not been planning to sell.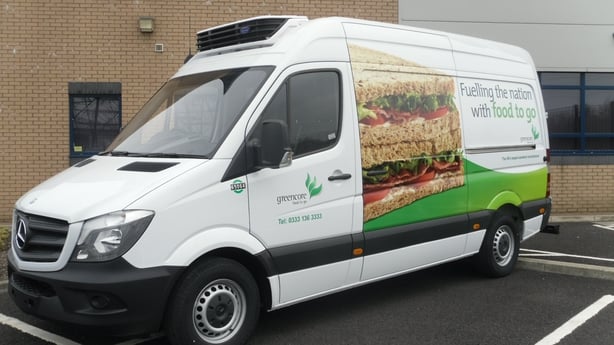 But he said the "unique offer" from Hearthside allowed Greencore to crystallise the value of its US operations immediately.
He added that the company will be "careful and disciplined" in its future acquisitions.
Looking ahead, Mr Coveney said the firm is confident that it can deliver further growth and returns in the dynamic UK market.
"The proposed transaction would enhance our strategic and financial flexibility, which would allow us to build on our industry-leading position in our core UK market whilst also taking advantage of emerging organic and in organic growth opportunities," he added.
The Greencore CEO also told Reuters that he expects "lots more Brexit drama" but he hopes there will be a deal.
Patrick Coveney also said that Greencore is "pretty insulated" from Brexit due to the company's domestic UK supply chain.