China's services sector grew at its fastest pace in three months in September on improved demand, a private survey showed today.
However sentiment worsened as firms started shedding jobs after over two years of expansion while rising cost pressures pointed to a squeeze on profit margins.
The Caixin/Markit services purchasing managers' index (PMI) rose to 53.1 in September from 51.5 in August, and staying above the 50 level that separates growth from contraction.
The faster growth is a welcome signal for a key part of the world's second-largest economy as it faces rising headwinds from a heated trade row with the US. 
An official gauge of the non-manufacturing sector for last month published on September 30 also pointed to continued expansion.
Analysts said this was largely driven by a jump in construction in a sign the government's fiscal easing may be gaining traction.
Today's survey showed most of the pick-up came from higher new business orders, as the sub-index rose at its quickest pace in three months with a reading of 52.4, compared to 51.7 in August.
China is counting on services, particularly high value-added services in finance and technology, to lessen the economy's traditional reliance on heavy industry and investment. 
Policymakers have also quickened project approvals lately to prop up infrastructure investment growth. 
Strength in the services sector would alleviate some pains already felt by China's manufacturing sector from the impact of US tariffs.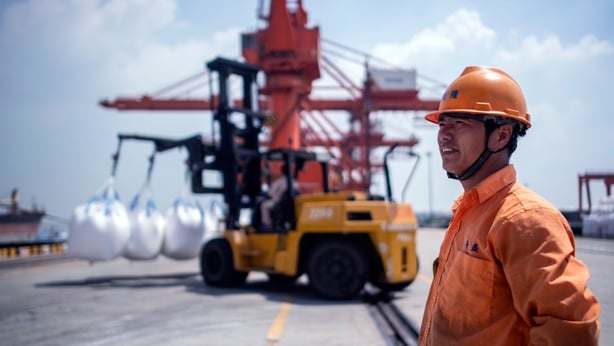 Factory activity stalled in September after 15 months of expansion, with export orders falling the fastest in over two years, a separate Caixin survey just over a week ago. 
Government statistics show the services sector, accounting for slightly over half of China's economy in the first half of 2018, grew 7.6% in that period from a year earlier, easily outpacing overall GDP growth of 6.8%. 
Caixin's composite manufacturing and services PMI, also released today, rose marginally to 52.1 in September from 52 in August. 
While the improvement in the services activity could be a relief for Chinese policymakers battling a protracted trade war with the US, an abrupt employment contraction in the sector may signal emerging stress.
The employment sub-index fell to 49 in September, marking its first contraction since July 2016, and the lowest level since March that year, leading to a slight pullback in business expectations for the next 12 months.
China's state planner has said trade dispute with the US created uncertainty for its job market, while finance minister Liu Kun also told Reuters he is highly concerned about potential job losses.