The budget deficit for 2017 was revised down slightly to 0.2% of gross domestic product, provisional figures from the Central Statistics Office show today.
The figure is moving closer to the surplus that the Central Bank says should already be running.
The country's deficit, which ballooned into double figures in 2009, narrowed from 0.5% at the end of 2016 as the difference between what the state spends and takes in shrank to €700m.
The Government is currently targeting a 0.2% deficit for this year and 0.1% for next year before moving to a surplus in 2020.
---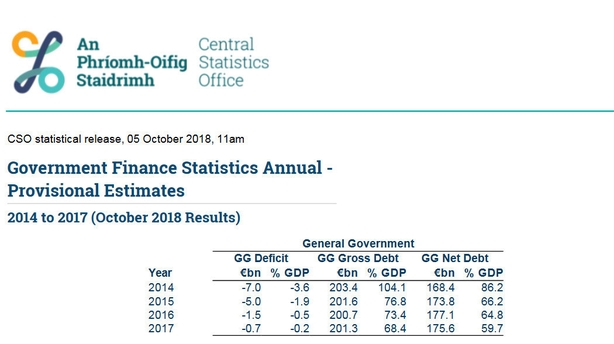 ---
However, Central Bank Governor Philip Lane advised the Government in July to aim for more ambitious fiscal surplus targets for 2019-2021 and said it should be running a surplus now given the strongly performing economy.
Finance Minister Paschal Donohoe will give an updated deficit target on Tuesday when he presents the Budget for 2019.
He will introduce €800m of spending increases and income tax cuts, with anything on top of that dependent on how much can be raised from increasing taxes elsewhere.
Earlier this week, the Department of Finance also increased its forecast for GDP growth this year to 7.4%, from a previous estimate of 5.6%, after a series of distortions related to Ireland's large multinational sector inflated growth again this year.
The Central Statistics Office has begun to phase in a new measure - "Modified Gross National Income", or "GNI*" - which strips out the effects of multinational firms re-domiciling, relocating or depreciating their capital assets.
By that measure, Ireland ran a budget deficit of 0.4% last year, the CSO said.