Lakeland Dairies and LacPatrick Dairies have agreed to merge after the unanimous approval of the boards of both co-operative societies for the deal.
The two co-ops are recommending the proposed merger to their respective shareholders and shareholders will get a chance to vote on it at special general meetings on October 23.
Owned and controlled by farmers along the border, with over 3,200 milk suppliers and a collective milk pool of 1.8 billion litres, the new co-op would become the second largest dairy processor on the island of Ireland after Glanbia. 
It will have a combined annual turnover in excess of €1 billion, which the co-ops said would create internationally competitive scale while ensuring efficient costs of operation.
The two dairies are neighbouring co-ops and both operate on a cross border basis exporting the vast majority of their output to global markets. 
LacPatrick was established in 2015 after the merger of Ballyrashane Co-op and Town of Monaghan Co-op. Ballyrashane Co-op was established in 1896 and Town of Monaghan Co-op was founded in 1901. 
The co-op has 848 milk suppliers and currently processes approximately 600 million litres of milk annually.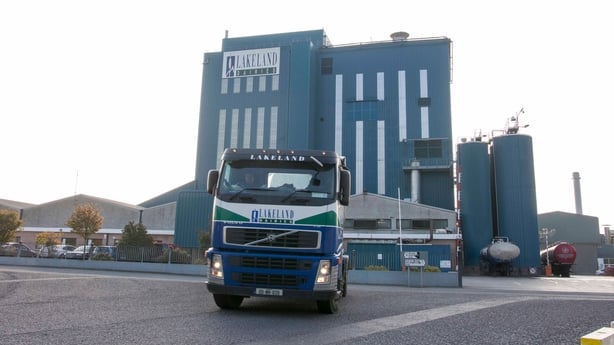 Lakeland Dairies was set up in 1990 through the merger of Killeshandra Co-operative (established in 1898) and Lough Egish Co-operative (established in 1902). 
It is a farmer owned dairy processing co-operative with operations across 15 counties on a cross border basis. It collects and processes over 1.2 billion litres of locally produced milk from 2,500 milk suppliers each year.
Andrew McConkey, Chairman of LacPatrick Dairies, said the dairy's board firmly believes that an amalgamation with its neighbours in Lakeland Dairies is the best thing for its milk suppliers, shareholders and customers. 
"It gives our farmers the necessary security to make long term business decisions and provides stability for continuing progress in dairy farming for the next generation," he added.
Lakelands chairman Alo Duffy said the merger proposal is a "once in a lifetime opportunity" for both co-operatives to continue their strong progress in a very meaningful way. 
"Both societies are committed to the long term well-being and economic success of dairy farming, milk producers and rural communities. The proposed merger will uphold these values and will lead to further scale, strength and sustainability for milk producers," he said. 
"It will enable us to process all of the milk sent to us, including the expanding output of our dairy farming members. It will create economies of scale and will secure our channels to global markets on a stronger, substantial and even more sustainable basis for the future," he added.
Talks about the possible merger started last June and regulatory approval will be required for the deal to be completed.