Tesco today missed first-half profit forecasts after weak trading in Thailand and Poland took the shine off accelerating sales growth in its main UK business, sending its shares lower.
The company, which acquired wholesaler Booker in March, reported operating profit before one-off items of £933m.
While this marked a 24% increase on the same time last year, it was short of the £978m analysts had expected.
The profit shortfall was explained by a 29.1% decline in profit in Asia and a 3.3% reduction in central Europe, which partly offset growth of 47.6% in the UK and Ireland as Tesco seeks to fight off intense competition.
"I don't think the market had fully factored in the Asian side (of the business) but we're really encouraged by the UK," Tesco's chief financial officer Alan Stewart told reporters.
Chief executive Dave Lewis has been rebuilding Tesco since 2014, when an accounting scandal capped a dramatic downturn in trading.
Tesco currently has a leading 27.4% share of the UK's grocery market, according to industry data, although it could be overtaken by Sainsbury's proposed £7.3 billion takeover of Walmart's Asda.
The tie-up between Tesco's two nearest competitors in the UK, which the competition regulator is probing, is driven in part by the rise of discounters Aldi and Lidl, who are gaining ground on Britain's big four grocers, as well as the growth of Amazon.
Tesco also continues to hold the biggest share of the Irish grocery market and in the 12 weeks to September 9 it had a 22.1% share of supermarket sales - up marginally on the same time last year.
In its results statement today, Tesco said its second quarter like-for-like sales in Asia fell 4.8%, reflecting its decision to exit non-profitable cash and carry sales in Thailand.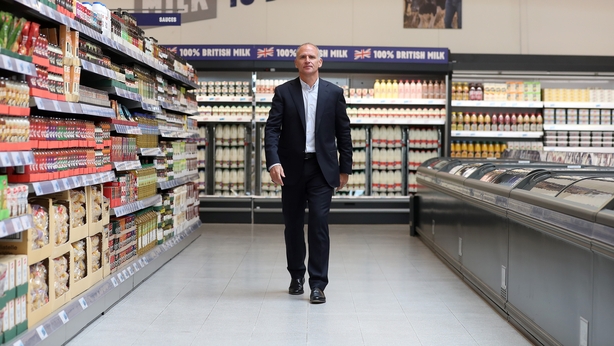 Underlying sales in the Central Europe division fell 2%, reflecting weak sales in Poland.
CEO Lewis said Tesco was committed to both Thailand and Poland.
"In Thailand we're market leader, it's still the most profitable part of the group and there's still significant growth to be had," he said.
Tesco said it was suffering in Poland because of restrictions on Sunday trading.
"We've lost a number of trading days again in the quarter and that just requires us to keep constantly improving the efficiency and productivity of that business in what is quite a challenging market," Lewis said.
He said the difficulties in Thailand and Poland did not imperil Tesco's key margin target for the group to earn between 3.5 and 4 pence of operating profit for every pound customers spend by the end of its 2019-20 financial year.
Tesco was "firmly on track" to hit that target as well as cost savings of £1.5 billion and the generation of £9 billion of retail cash.
Tesco held its own in a strong summer for Britain's overall grocery industry which was boosted by record hot weather, a royal wedding and the soccer World Cup, delivering a 2.5% increase in second quarter like-for-like sales - an eleventh quarter of growth in a row.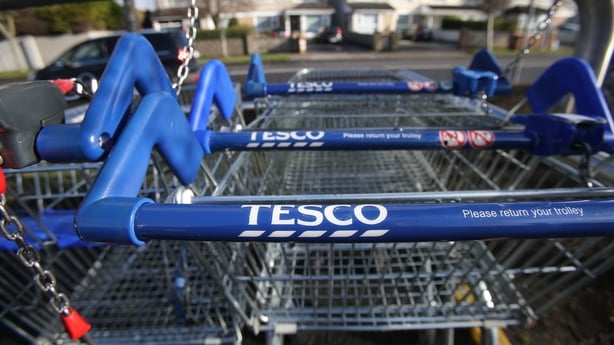 The company said its Irish like-for-like sales rose by 3% in the first quarter and by 3.1% in the second.
It noted that its brand volumes increased by 9% as its Irish customers responded to "an increasingly competitive offer".
Chris Lewis has lowered Tesco's prices versus all its major competitors, streamlined product ranges and improved their quality, while raising store standards and transforming supplier relationships.
The CEO, who joined shortly before the accounting scandal was uncovered, has also secured new avenues of growth, with the acquisition of Booker his boldest move yet.
In July he agreed to form a global purchasing alliance with France's Carrefour, while last month he launched Tesco's new discount format Jack's.
Lewis said the first two Jack's stores were "trading really well".