Shares of Britain's Royal Mail deepened their slump today, hitting a record low.
The losses come a day after the 500-year-old postal service warned its annual profit would be far lower than expected, hurt by eroding logistics business margins and weaker letter volumes.
Shares of the company, founded under Henry VIII, sank 8% to a record low of 360.1 pence.
The FTSE 100 stock has shed £1.3 billion over two sessions, as it plunged 18% yesterday after the surprise warning.
Although Royal Mail maintained its dividend, analysts warned that the policy did not look sustainable in the longer term.
Last month, the company acquired a parcel delivery firm, Dicom Canada, in order to break in to new markets and announced the resignation of Peter Long as chairman.
The stock, which listed in London in 2013, has lost roughly one-fifth of its value year-to-date including today's losses.
The former British postal monopoly has been struggling to stem falling letter volumes in the era of e-communication.
It recently warned that the new European data privacy law could reduce traditional marketing mail.
Royal Mail yesterday forecast a drop in adjusted operating profit before transformation costs to between £500-550m, compared with last year's £694m.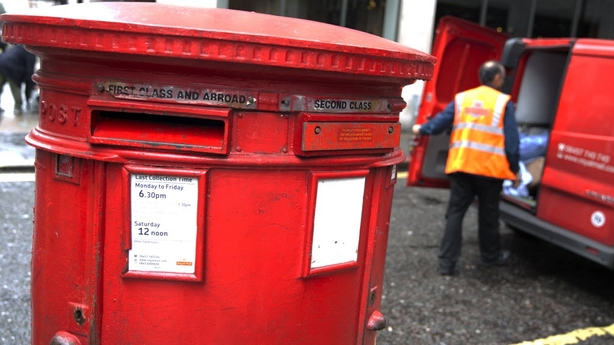 The company said it expects to cut costs by only £100m, well below the £230m forecast previously. A range of short-term cost actions will be implemented, it said without elaborating.
In June the company said there was some uncertainty among its customers about the General Data Protection Regulation (GDPR), which imposes new requirements on how companies collect and process personal information about users and came into force on May 25.
The company said it now expects a 7% decline in addressed letter volume compared with its previous forecast of a 4-6% decline for the medium term.
"Trading conditions in the UK are challenging. Our letter volumes, especially marketing mail, are impacted by ongoing structural decline, business uncertainty and GDPR," Royal Mail's chief executive Rico Back said.
"Our UK productivity and cost performance has been disappointing," he added.
Royal Mail also said said it expects productivity for 2018-19 to be significantly below its previous target, which was at the upper end of the 2-3% range.
The company attributed the decline in productivity to a "challenging agenda" set out in the agreement signed with the Communications Workers Union (CWU) in March to replace Royal Mail's defined-benefit pension scheme.
"It is taking longer than anticipated to deliver the required productivity increases," the company said months after it ended a 10-month dispute with CWU over pensions, pay, a shorter working week, culture and operational changes.
It also said that labour market and other cost pressures would have a higher than expected impact on margins at the company's fast-growing European parcel business, GLS.
However, it said revenue and volume growth for 2018-19 were now expected to be better at its UK parcels business than a year earlier.