Euro zone manufacturing growth slowed further to a two-year low at the end of the third quarter, in another sign the escalating trade war between the US and China was hurting factories elsewhere too. 
Growth in manufacturing activity has dwindled across the euro currency bloc this year and the latest data suggests the momentum in the currency bloc is well past its peak. 
IHS Markit's September final manufacturing Purchasing Managers' Index dropped to a two-year low of 53.2 from August's 54.6.
Today's reading was a touch below a flash reading of 53.3 but still above the 50 level that separates growth from contraction. 
An output index, which feeds into a composite PMI due on Wednesday and is regarded as a good gauge of economic health, fell to a more than two-year low of 52.7 from 54.7 in August. 
Manufacturers are increasingly concerned about barriers to global trade, which was clear with the readings of forward-looking survey indicators. 
Indeed, the new export orders index fell to a more than five-year low of 50.2 from 52. 
With neither Beijing nor Washington ready to compromise and the latest tariffs on each other's goods already imposed, that conflict is a worrying backdrop to an already-weakening factory expansion in Europe.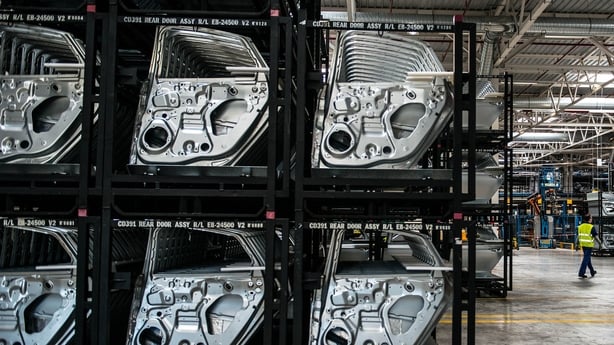 "Euro zone manufacturing shifted down yet another gear at the end of the third quarter. 
"The sector has seen booming growth at the start of the year rapidly fade to the worst performance for two years in September as production and jobs growth have slowed in response to a stalling of export trade," said Chris Williamson, chief business economist at IHS Markit. 
"The survey paints the worst trade picture for over five years, with export growth having slumped sharply from a series record high in late 2017 to near-stagnation in September," he added. 
Hiring rates were at a 19-month low and future output index - which measures optimism about the year ahead - fell to a near three-year low. 
New orders growth also slowed further to a 25-month low, suggesting a lack of momentum into the fourth quarter. 
Factories in the euro zone increased prices at a faster pace in September. 
Official data showed a flash reading of inflation in the bloc dipped unexpectedly this month, which is likely to increase concern at European Central Bank as it slowly withdraws stimulus.