Central Bank Governor Philip Lane has welcomed the recent slowdown in the pace of growth in house prices in Ireland, saying the flatlining of the market was "very good news".
In an interview with Bloomberg TV, Professor Lane said the flatlining of prices was partly due to more houses coming on stream, adding that there was a real shortage in housing investment after the financial crash.
The fact that more housing is becoming available will help relieve the pressure, he added.
Professor Lane said there is still a long way to go to sort the housing issue, and affordability remains a problem as a lot of people continue to pay very high rents and can not find a house to buy.
The Central Bank Governor also said he is "fully committed" to his job at the Central Bank but remains "interested" in a top job at the European Central Bank.
Prof Lane said he "stood ready" for the eurogroup decision on the position of chief economist at the ECB.
Earlier this year, Prof Lane was withdrawn from the race to become vice president of the European Central Bank, paving the way for Spanish finance minister Luis de Guindos to be appointed to the role.
Ireland has never held a post in the ECB at all, but Prof Lane is widely seen as a top candidate to become ECB chief economist when Peter Praet leaves his position next year, euro zone officials have said.
Professor Lane said that there are many strong candidates for the job as top economist at the ECB and speculating about the position was "not occupying" his days.
Speaking on Bloomberg, the Central Bank Governor said that a "severe trade war" would have a big negative impact on the euro zone economy .
He also said the ECB expects inflation pressures to pick up until 2020, adding that capacity constraints will put upward pressure on prices.
On euro zone interest rate rises, Professor Lane said they were not worth talking about yet as they are so far away.
Meanwhile, Professor Lane told a conference today that underlying inflation in the euro zone remains on a steady upward path but the European Central Bank is open to adjusting its interest rate guidance if the outlook changes.
With inflation finally moving higher, the ECB has been curbing stimulus for months and plans to end its €2.6 trillion bond purchase scheme in December, hoping that it has done enough to push prices back to its target of almost 2%.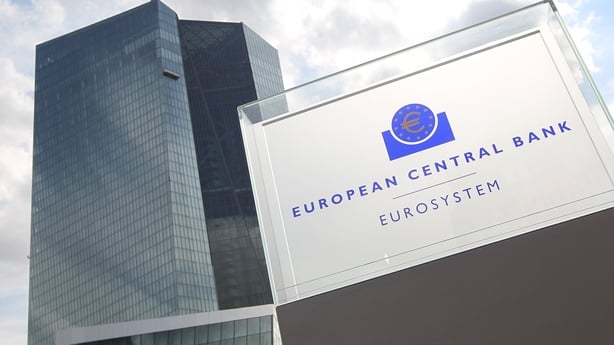 But underlying inflation - prices excluding volatile food and fuel prices - has yet to show the type of upward move policymakers predicted.
September data missed expectations, even as wages are moving decisively higher and employment is at a record high.
"We're fairly sure that core (inflation) is on an upward path, again not spectacular but steady enough," Philip Lane, who sits on the ECB's Governing Council, told the London conference today.
"The support of more jobs, more labour income driving consumption is very strong," he added.
The ECB plans to keep rates steady through next summer and has said it is comfortable with market expectations for an interest rate rise sometime in the final quarter of 2019.
"Remember the statement is saying at least through the summer," Professor Lane said.
"It is not committing to any particular date for lift-off, so there is a clear commitment there, which is that it's open to revisions depending on where the data come in."
He argued that once labour market slack is absorbed, and the jobs market gets hot, inflation is likely to accelerate rather than rise gradually.
Additional reporting Glenda Sheridan