Exploration company Providence Resources has reported a narrowing of losses for the six months to the end of June after what it called "an exceptionally busy period".
Providence said it reduced its operating loss to €2.210m, this compared to a loss of €3.916m the same time last year.
The company also reported a loss per share of 0.40 cents compared to a loss per share of 0.58 cents in the first half of 2017.
Providence said that during the first half of 2018, it continued to make strong progress in developing its portfolio of assets offshore Ireland.
This continued into the second half of the year with the signing of a new Barryroe farm-out agreement, which it called a "transformational" event for the company. The new farm-out deal will see drilling commence next year.
Providence noted that Barryroe would be Ireland's first commercial oil field development, which in tandem with Corrib, would further facilitate national energy independence at a time of growing geopolitical risk within global energy markets.
Mr O'Reilly said that with the enhanced multi-well drilling programme at Barryroe, Providence continues to be by far the most active player offshore Ireland in terms of drilling activity, commercial deals and collaborations with world-class partners.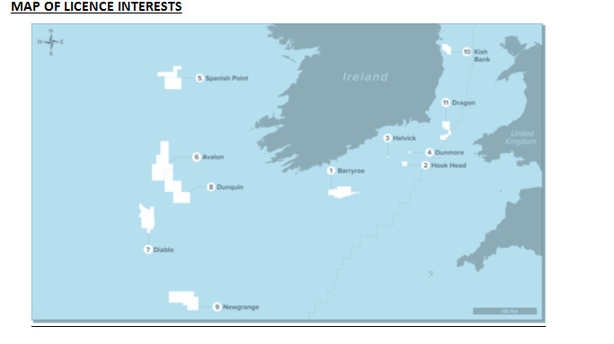 "We remain very optimistic about the future prospects for Providence and are both determined and uniquely positioned to continue to lead the industry in identifying and realising Ireland's significant offshore potential, whilst also scouting opportunities elsewhere that leverage our unique skillset and experience offshore Ireland," the company's chief executive Tony O'Reilly said.
"We have the portfolio, partners, people and financial resources in place to advance our portfolio through exploration and appraisal drilling for the benefit of all our shareholders," he added.
Providence Resources' assets include Barryroe, Hook Head, Helvick and Dunmore in the North Celtic Sea Basin; Spanish Point in the Northern Porcupine Basin, Avalon, Diablo, Dunquin in the Southern Porcupine Basin; Newgrange in the Golan Spur Basin; Kish Bank in the Kish Bank Basin and Dragon in St George's Channel Basin.