A new report suggests that an extra €18.6 billion over the next 15 years could be added to the economy if Dublin Airport was developed as an airport hub.
Aer Lingus commissioned EY to compile the report, which concludes that investment in hub infrastructure at Dublin Airport could also generate 33,950 new jobs - the bulk of which would be in the tourism sector.
A hub airport is one which is served by strong or multiple network carriers and airline alliances that provide scale in routes, aircraft, crew and passengers. 
Today's report also suggests that another €6 billion could be generated for the Exchequer from increases in a number of taxes, including VAT, excise, corporation and income tax. 
The report also suggests that another 1,147 jobs could be created in the construction phase of the hub facilities from 2018 to 2023.
EY said that Dublin Airport already has several advantages which would support its development as a hub.
These include network carriers already working in Dublin, a large route network and the country's geographical advantage which facilitates services on transatlantic routes.
The US pre-clearance already in operation in Dublin airport is also cited as a "significant advantage". Ireland is the only country in Europe to have this facility.
The report also states that airport hubs in the likes of Singapore, Dubai, Iceland and Amsterdam have clearly showed their ability to act as a catalyst for economic development and expansion.
However, it also makes it clear that investment in infrastructure will be needed to transform the airport into a hub.
Stephen Kavanagh, Aer Lingus chief executive, said the airline has supported the development of Dublin as a hub airport since its inclusion as a requirement in the National Aviation Policy and as more recently referenced in the National Development Plan.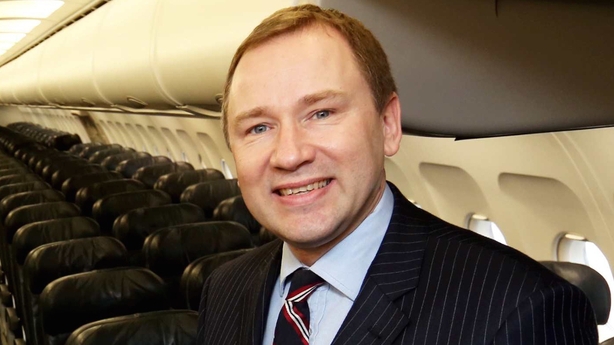 "Today's report clearly demonstrates the very significant economic benefits to Ireland which would flow from the development of such infrastructure. 
"Aer Lingus continues to drive its own strategy to be the leading value carrier across the North Atlantic, adding new routes and capacity on an ongoing basis, bringing increased connectivity for Ireland as well as growing jobs and supporting international trade and economic growth," Mr Kavanagh added.
He said that Dublin Airport has a number of the characteristics of a successful hub, but new infrastructure is needed to fully realise the potential. 
"We have had constructive engagement with the DAA and we understand they are likely to propose hub infrastructure development within the Capital Investment Programme for the next regulatory period 2020-2024," the Aer Lingus CEO said.
Aer Lingus launch new services to US and Canada
Aer Lingus also said today it will launch new direct services from Dublin Airport to Minneapolis-St Paul in Minnesota and Montreal in Canada next summer.
Minneapolis-St Paul is Aer Lingus' 14 transatlantic route from Dublin Airport and its 11th new transatlantic route in the past five years. 
Montreal will be the airline's second destination to Canada from Dublin and means Aer Lingus will operate a total of 15 North American routes from Dublin next year.
Passengers on the new service to Minneapolis-St Paul will use the US pre clearance facilities at Dublin Airport.
Transatlantic connectivity from Dublin has grown rapidly over the past five years, with passenger numbers up 82% from 1.7 million in 2012 to 3.5 million last year.