Australia's economy sped past all expectations in the last quarter as rapid population growth fuelled demand for homes and infrastructure.
But there was little sign of wage or price pressures that would warrant a rise in interest rates. 
The strong result marked the 27th year without recession, a remarkable feat given an ever-changing procession of prime ministers and one that owes much to China's insatiable appetite for Australia's resource riches. 
Today's data from the Australian Bureau of Statistics showed the economy grew 0.9% in the June quarter, from the March quarter when it expanded by a rapid 1.1%. 
Australia's gross domestic product (GDP) was 3.4% higher than a year earlier, ahead even of the 2.9% growth boasted by the US. 
It was the strongest result in almost six years and handily beat market forecasts of 2.8% thanks to upward revisions of previous quarters.
For the whole year to June, GDP amounted to A$1.84 trillion ($1.33 trillion), or about A$74,000 for each of Australia's 25 million residents. 
Fuelling that performance was annual population growth of 1.6%, more than double the developed-world average, as Australia attracted more migrants from China and India. 
Analysts fear the recent political dysfunction could take a toll on consumer sentiment, just as spending seemed to be making a comeback. Household consumption had rebounded in the June quarter to add 0.4 percentage points to GDP.
Despite the solid growth, the economy was still not generating much wage or price pressures. 
GDP per person grew only 1.8% in the year to June while the household savings ratio declined again last quarter to 1%, a new decade low. 
Plenty of other headwinds loom, including a drought that has scorched the Pacific nation's eastern farm belt.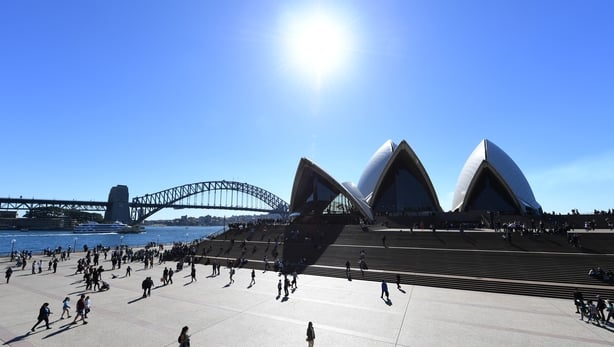 After a decade of feverish expansion, home prices are now falling across the country - a sizeable drag on consumer wealth given the housing stock is valued at A$6.9 trillion. 
A recent hike in mortgage rates by Westpac stirred fears the other major banks would follow and pile further pressure on the housing market.
So far, policy makers are unperturbed. Reserve Bank of Australia Governor Philip Lowe played down recent increases in mortgage rates while sounding staunchly upbeat about the economy during a speech in Perth this week. 
The central bank has kept interest rates at an all-time low of 1.5% since mid-2016 and concedes they will have to remain there for some time yet.