Sales of Lego dinosaurs and a Bugatti sports car helped the Danish toymaker stabilise revenue in the first half of this year after a drop in 2017 for the first time in more than a decade.
The privately-owned firm pushed the "reset button" last year, acknowledging its business had grown too complicated.
Its attempts to recover have been hampered by the bankruptcy of the biggest US toy-store chain Toys'R'Us, but demand for new products such as the dinosaur-themed Jurassic World range helped to steady revenue in the first six months of the year.
"I am satisfied, because we set out to stabilise growth this year and we have already done it during the first half," Chief executive Niels B Christiansen told Reuters.
Overall, consumer sales grew 1% during the six month period.
Revenue was flat in constant currencies and fell 5% in Danish crowns to 14.3 billion crowns ($2.23 billion) - a far cry from the 25% growth achieved in 2015.
The fastest-growing ranges were the advanced Technic series, the warrior-themed Ninjago, the Creator range that can be built into several designs, and the Classic series.
Successful innovation is crucial to Lego, as 60% of its portfolio consists of new products each year.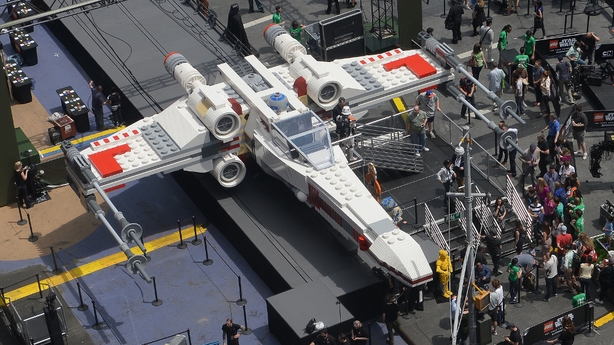 Sales in Western Europe grew in the low-single digits, measured in constant currencies, while North America declined slightly. China remained a bright spot with double-digit growth, although it accounts for less than 10% of group sales.
Lego, an abbreviation of the Danish "leg godt" meaning "play well", plans to open two flagship stores in Shanghai and Beijing and continue its partnership with Chinese internet giant Tencent.
It is also working with local education departments, state schools and the private education providers in China to get kids playing with Lego as a way to boost motor skills, creativity and attention spans.
"The Chinese appreciate and emphasise that children learn something when they play There is a really nice fit between China and Lego," said Christiansen, who joined Lego last year after nine years as CEO of Danish industrial group Danfoss.
Lego, which competes with the likes of Barbie maker Mattel and Hasbro, the firm behind My Little Pony, is also betting on toys that combine the physical brick with the online world.
One successful example, according to Christiansen, is an app with which kids can write a simple code to control a self-built DUPLO train or Batmobil.