Dublin Port has updated its long-term development plan that would see the port grow more quickly with more investment by 2040.
Its 'Masterplan 2040 Reviewed 2018' aims to increase average annual growth at Dublin Port from 2.5% to 3.3% between 2010 and 2040.
Under the proposals, it is also hoped the capacity of the port can be increased to cater for a growth to an ultimate capacity of 77m gross tonnes by 2040 rather than the 60m gross tonnes, as originally proposed in 2012.
Dublin Port says this will be accomplished with no further infill into Dublin Bay and the option of increasing port capacity by an eastwards expansion into Dublin Bay has been "definitively ruled out".
The initial Masterplan 2012-2040 had envisaged deepening the port to 12m, but this will not now happen and the current works to deepen the port to 10m will be the final deepening of Dublin Port.
The plan points to two initiatives that make it possible to achieve "a higher throughput on a smaller footprint than originally envisaged" at the port.
The first is the development of a 44-hectare Dublin Inland Port located 14km from Dublin Port just off the N2, with the authority saying work has already commenced on the development of Dublin Inland Port and the first facilities are set to be operational there during 2019.
In addition, projects will be maximised to use port lands on the Poolbeg Peninsula based on enhanced access via a new Southern Port Access Route (SPAR) to provide access between the Dublin Port Tunnel and the south port lands
The developments are expected to be completed by 2035.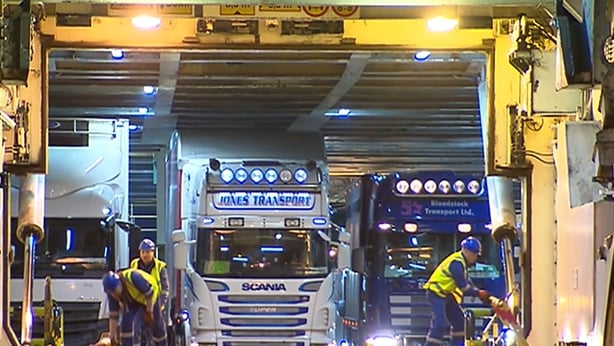 Chief Executive of Dublin Port Eamonn O'Reilly said the revised Masterplan "is founded on our commitment to the proper planning and sustainable development of Dublin Port.
"We have identified a series of projects which will bring the Port to its ultimate capacity by 2040 and, in doing this, support the objectives of Project Ireland 2040."
He added that "achieving sustainability is a considerable challenge and we are committed in Dublin Port to doing that in the case of port operations".
Mr O'Reilly also said next year construction will start on a 4km greenway for pedestrians and cyclists on the northern fringe of the port overlooking the Tolka Estuary.
The launch of Dublin Port's new masterplan comes as the authority saw growth of 5.2% last year with increases in both imports and exports.