Residential property prices grew by 12.4% in the year to May, down from 13.5% in April as the Central Bank's rules continue to limit lending levels.
The Central Bank limits mortgages at three and a half times a person's income.
New figures from the Central Statistics Office show that on a monthly basis, house prices rose by 0.6% in May, down from growth of 1.1% in April.
Today's CSO figures show the pace of growth in property prices outside of Dublin were again stronger than that in the city.
Prices outside of Dublin were 14.1% higher in the year to May, while property prices in Dublin increased by 10.7%.
---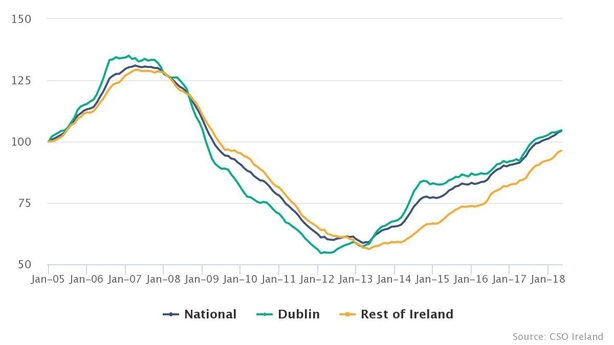 ---
House prices around the country climbed 13.7% with the Mid-West region recording the greatest price growth, with house prices there increasing by 22.1%. 
The Border region showed the least price growth, with house prices increasing by 3.7%. 
Apartment prices in the Rest of Ireland increased 15.5% in the year to May, the CSO said.
Meanwhile today's figures also show that Dublin house prices increased by 10.3% in May while apartments in Dublin rose by 13.5% in the same period. 
The CSO noted that the highest house price growth was in Dublin City, at 14.6%, while the lowest growth was in South Dublin, where house prices increased 6.6%.
Despite the strong gains over the last number of years, Dublin residential property prices remain 22.5% lower than their February 2007 peak, while residential property prices in the rest of the country are 25.5% lower than their May 2007 peak.
---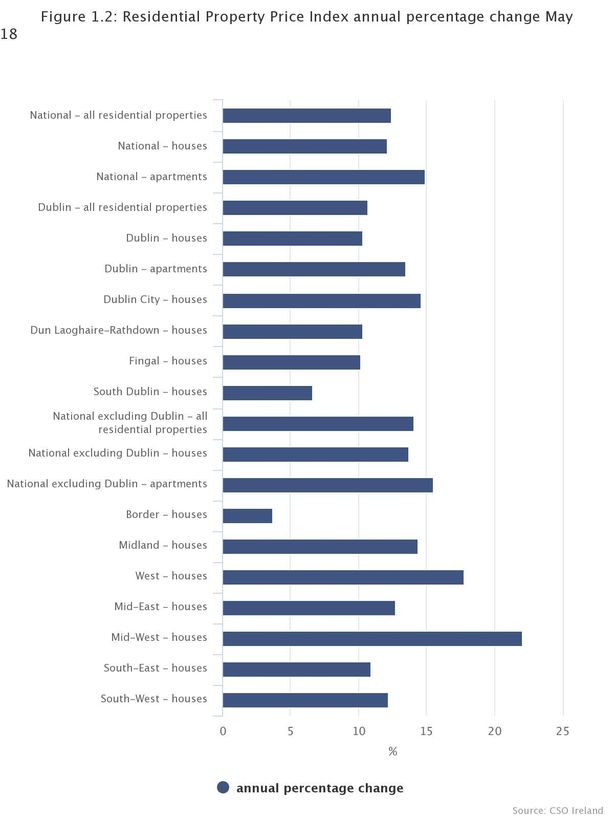 ---
In the 12 months to May, the median price paid for a home was €235,000. 
Dublin was the region with the highest median price (€359,000) in the year to May. 
Of the four administrative areas of Dublin, Dún Laoghaire-Rathdown had the highest median price at €528,500 while Fingal had the lowest median price at €315,000.
Outside Dublin, the highest median prices were in Wicklow with prices of €310,000 and Kildare at €277,250. 
The lowest median price for a dwelling was in Longford at €91,000, while the next lowest were Leitrim and Roscommon with both counties seeing prices of €95,000.