UK retail sales rose the most in over a decade in the second quarter despite a drop in spending in June, official data showed today.
This gave the Bank of England some reassurance shoppers have largely shaken off a sluggish start to 2018.
Retail sales volumes in June alone were down 0.5% from May - at the low end of economists' forecasts in a Reuters poll - as the World Cup kept some shoppers out of stores after extremely rapid growth during the previous two months.
Sales for the second quarter as a whole were 2.1% higher than the first three months of the year, the biggest calendar-quarter increase since the first quarter of 2004.
But financial markets honed in on the weaker June figure, which pushed sterling below $1.30 for the first time since September 2017, after a week in which the British currency has been battered by political disputes over Brexit.
Most economists polled by Reuters at the start of the week predicted that the Bank of England would raise rates on August 2 for only the second time since the financial crisis.
But the dip in sales in June - which follows soft wage growth and inflation figures earlier in the week - revived some investors' concerns that they may see a repeat of May, when the bank held off a widely expected rate rise due to a string of soft data in the run-up to its policy meeting.
Retail sales growth and Britain's economy overall slowed in the first three months of 2018, due to heavy snow as well as ongoing pressures from high inflation and the anticipation of next year's Brexit.
The Bank of England said in May it would delay raising rates until it was sure that growth was back on track.
June retail sales were 2.9% higher than a year earlier compared to forecasts of a 3.7% rise, slowing from 4.1% in May, which had been the fastest annual growth rate since November 2016.
The ONS said the strong data for the retail sector - which makes up just 5% of the economy - would probably add 0.1 percentage points to second-quarter GDP growth.
Earlier this month Bank of England Governor Mark Carney said the economy appeared to be growing as forecast - bolstering market expectations for a rise - though his deputy Jon Cunliffe, who opposed the last rate rise in November, said wages were growing a bit less than the BoE had forecast.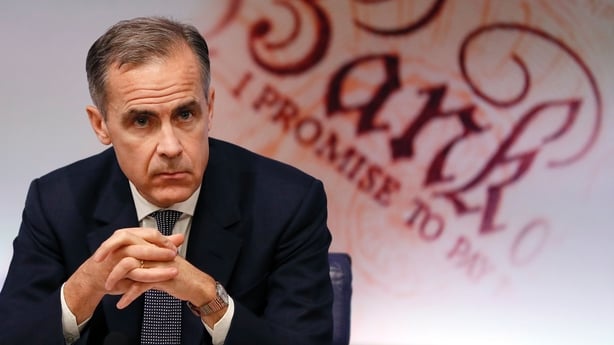 Overall economic growth in Britain this year is likely to be the weakest since 2012, according to the International Monetary Fund, which cut its forecast to 1.4% on Monday.
Cunliffe's view got a boost on Tuesday, when fresh data showed earnings rising at the slowest rate in six months.
And yesterday UK inflation unexpectedly held steady, in part because heavy discounting of clothing negated the effect of higher fuel prices.
The latest UK retail sales data showed clothing sales suffered from the heat, but food and drink retailers did well as shoppers took advantage of unusually hot weather.
"Warm weather encouraged shoppers to buy food and drink for their BBQs," the ONS said.
"However continued growth in food sales (was) offset by declining spending in many other shops as consumers stayed away from stores and instead enjoyed the World Cup and the heatwave," it added.
Online clothing retailer ASOS reported rapid British sales growth last week, outstripping overseas sales.
But traditional clothing retailers such as Marks & Spencer, Debenhams and House of Fraser have struggled, and furniture retailers DFS and Dunelm last week reported lacklustre results, in part due to hot weather keeping shoppers away.