The Minister for Communications is to meet Facebook executives in New York tomorrow to discuss last night's Channel 4's Dispatches programme which outlined serious failings in the social network's content moderation procedures.
Minister Denis Naughten sought an urgent meeting on foot of what he described as his serious concerns about what the programme revealed and Facebook's failure "to meet the standards the public rightly expects of it".
He said it raised serious questions in respect of the manner in which Facebook handles reports of harmful or illegal content carried on its platform.
Mr Naughten said it also raised serious questions about the internal procedures it has in place to moderate harmful or illegal content on its platform and the systems the company has in place to report instances of abuse, suspected abuse or other illegal activity to the appropriate authorities, including An Garda Síochána.
Minister Naughten is currently attending the UN High Level Political Forum on Sustainable Development in New York.
Meanwhile, a senior Facebook executive has denied suggestions in the Dispatches programme that the company wants to see some extreme content on the platform in order to attract users and encourage engagement.
"We don't want to see this content, we know the people who use Facebook don't want to see this content, our advertisers don't want to see this content, so in fact the very opposite is true," said Siobhan Cummiskey, Head of Public Policy for Europe Middle East and Africa
"It is of absolutely no value to us to have that content on the platform. We were very surprised to hear that comment and I've certainly never heard that in any of the conversations I've had here in the last six years."
Speaking to RTÉ News, Ms Cummiskey said Facebook knows people are concerned and upset about what they saw on the programme, adding that staff at the company are too.
She said the vast majority of child abuse content is removed and face matching technology is used to ensure it never returns to the platform.
The only narrow exception, she said, is when the child is possibly still in danger the social network leaves the content on the platform in order to raise awareness so that it might be brought to safety.
Ms Cummiskey said the company takes the resourcing of the content safety area very seriously.
She said Facebook had announced last year that it was going to grow its content review team from 4,500 to 7,000, and by the end of this year the safety and security will have grown to 20,000.
Actions have been taken on foot of the programme she said, with all the content moderator trainers in the outsourcing centres themselves having been retrained in company policy.
She said the Dispatches programme had highlighted some issue and failings and each of those was being addressed.
On the question of whether regulation was needed in the internet and social media sectors here, Ms Cummiskey said Facebook already gets a lot of input from academics, NGOs and government into its policies.
Calls for stronger regulation after report shows Facebook failed to remove abusive or graphic material pic.twitter.com/oQDxGELYA8

— RTÉ News (@rtenews) July 18, 2018
Parties call for stronger regulation of social media
A number of political parties have called for stronger regulation of Facebook and other social media websites after the documentary.
Sinn Féin's communications spokesperson Brian Stanley said the attitude of Facebook shows the need to end self-regulation in the social media industry.
He said that executives from the company should appear before the Oireachtas Communications Committee in the wake of the programme.
Green Party leader Eamon Ryan said the programme raised serious questions about Facebook's business model.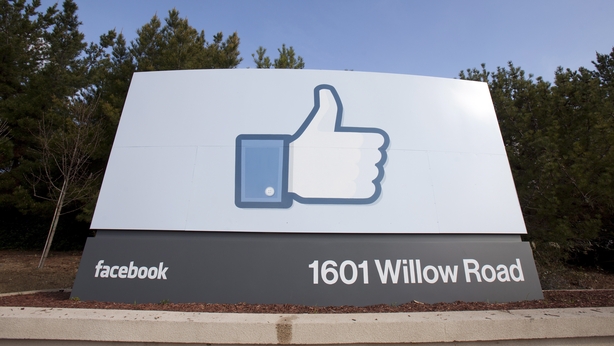 "In no other walk of life would you be allowed to profit from providing a platform for hate speech or the other harmful material which were seen to be tolerated in this excellent piece of undercover reporting," he said in a statement.
He said as home of the European headquarters of many social media companies, Ireland has a special responsibility to set the right regulatory standards.
He added that the Data Protection Commissioner needs to take a more direct role in monitoring the company on a day-to-day basis.
Labour's justice and childrens' spokesperson Seán Sherlock urged the Government to reconsider its decision not to appoint a Digital Safety Commissioner in light of the documentary.
"Ireland is where every tech company that matters is located. To suggest that we have to wait for international best practice to evolve to move on digital safety is a cop out," he said.
"International best practice has turned out to be international worst practice."
Retail Excellence suspends partnership with Facebook
Meanwhile, retail representative body Retail Excellence has suspended its partnership with Facebook after the programme was broadcast.
Retail Excellence had partnered with Facebook to provide training to retailers to enhance their digital strategies.
The next Retail Excellence-Facebook training course was scheduled to take place next week, while Facebook was also expected to address delegates at Retail Excellence eCommerce Conference in September.
"Based on the revelations from Channel 4 Dispatches documentary last evening, we have decided to suspend our partnership with Facebook until further notice," the group's chief executive Lorraine Higgins said.
"As a representative body which promotes standards of excellence amongst retailers it would be wrong for us to continue our partnership where they have fallen short," Lorraine Higgins said.
"On that basis, we will not be working with Facebook until we are satisfied their policies have been overhauled regarding the posting of violent and abusive content for commercial gain," she added.