KBC Bank has today announced a reduction across its range of fixed mortgage rates for homebuyers and switchers.
The bank said it will reduce its one, two, three and five year fixed rates by between 0.25% and 0.55%, while it will maintain its market leading 10-year fixed rates.
Under the new reductions, KBC's one-year fixed rate for first-time buyers will reduce from 2.9% to 2.5%, while its three-year fixed rate will go down from 3% to 2.65% and its five-year fixed rate is cut from 3.35% to 2.80%. 
Its three-year fixed rate for movers and switchers, or first-time buyers with over 20% deposit, has also been reduced from 2.9% to 2.6% while its five-year rate has been reduced from 3.05% to 2.65%.
The new rates will be available to both new and existing KBC mortgage customers and will be effective from September 3.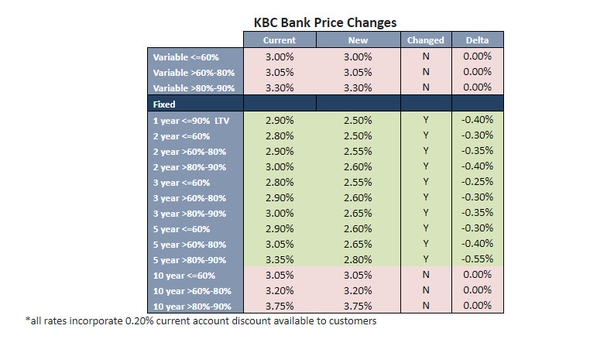 ---
KBC said its mortgage products also allow for lump sum payments and regular overpayments, which it said gives customers increased flexibility to manage their mortgage repayments.  
Comparison website Bonkers.ie said the changes announced by the bank means that a first-time buyer borrowing €250,000 over 30 years would save almost €75 a month by getting KBC's new five-year rate.  
Daragh Cassidy, head of communications at Bonkers.ie, said that KBC's reductions are "unsurprising" given the recent reductions by Ulster Bank.
He said it was "great news" for mortgage customers in Ireland. 
The question now is not if, but when, AIB and the rest of the competition will follow suit, he added. 
---