JPMorgan Chase & Co's quarterly profit topped Wall Street's expectations, as trading revenue came in much higher than expected and demand for loans increased on the back of a strengthening US economy. 
US banks are benefiting from a cut in corporate tax rates, hikes in interest rates and a growing economy that is driving demand from borrowers while holding down loan loss rates. 
"We see good global economic growth, particularly in the US, where consumer and business sentiment is high," the bank's chief executive Jamie Dimon said. 
Overall, the bank's revenue rose 6.5% to $28.39 billion and topped the average analyst estimate of $27.36 billion, driven by growth in all four of the bank's businesses. 
JPMorgan's quarterly reports are closely watched for signs about the health of consumers and businesses as the lender plays a major role in several businesses, such as home mortgages, commercial lending and asset management. 
Average core loans, which include consumer credit and loans to the biggest corporations, were up 7% compared with the year-earlier quarter. 
Analysts and economists are watching loan demand at banks for signs of any impact from international trade tariffs on their business and expansion plans. 
Investors have also been looking for signs that the corporate tax cuts have given companies new confidence to borrow, a phenomenon that bankers have said might not show up before the second half of the year.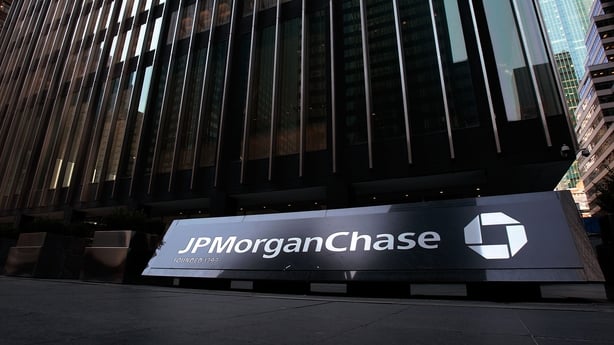 Earlier this week, Dimon was quoted in an Italian newspaper saying that US business executives have warned US President Donald Trump that the impact of trade tariffs on economic growth could offset the benefits of tax cuts. 
Trading revenue, which makes up about a fifth of JPMorgan's total revenue, was up 13%, compared with a 1% gain expected by some analysts. 
In May, the bank's corporate and investment bank chief, Daniel Pinto, said second-quarter markets revenue was likely to be flat compared with a year earlier. 
The bank said its net interest income rose 10% as the US Federal Reserve raised benchmark interest rates four times since the second quarter of 2017. 
Its net income rose 18.3% to $8.32 billion, or $2.29 per share, in the second quarter ended June 30, from $7.03 billion, or $1.82 per share, a year earlier. 
Analysts expected the bank to earn $2.22 per share, according to Thomson Reuters.
Meanwhile, Citigroup today reported a 16% increase in quarterly profit, as the Wall Street bank benefited from lower taxes, higher fee income and strength in its consumer banking business in Mexico.