Export sales by companies supported by Enterprise Ireland rose by 7% last year to hit a new record high of €22.7 billion.
Despite sterling's weakness Irish firms managed to boost sales to Britain, while there was even stronger growth recorded in the euro zone, North America and Asia.
Enterprise Ireland said that exports to the UK - the largest market for Irish exports and representing 34% of the country's total exports - delivered growth of 4% to €7.62 billon.
Exports to the euro zone region, which account for 20% of all exports, saw strong growth of 9% to €4.61 billion last year.
Enterprise Ireland said it supported 89 Irish companies to export to the euro zone for the first time last year, while almost 300 new contracts were secured for companies in the euro zone with the agency's assistance.
With the future UK-EU relationship still very much unknown, Enterprise Ireland has been encouraging its clients to prepare for the worst and hope for the best after Brexit.
That message appears to be getting through, with 85% now taking some form of action on Brexit.
These actions include diversifying export markets, improving operational competitiveness, strengthening their business in the UK, developing strategic partnerships, improving financial management and investing in R&D.
53% of Enterprise Ireland companies surveyed said that Brexit would not change their ability and appetite to invest this year, while 65% said it would not change their employment plans.
Julie Sinnamon, Enterprise Ireland's chief executive, said Irish companies are achieving international global sales at record levels, following consistent year-on-year growth for the past eight consecutive years.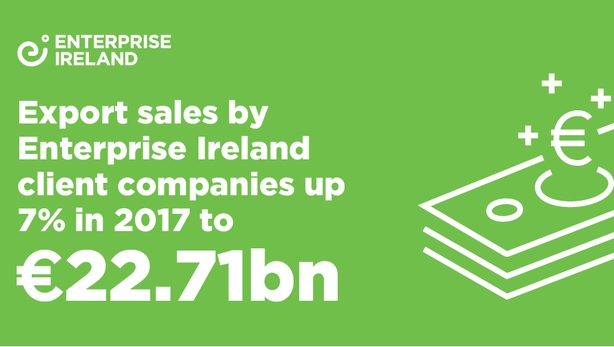 "Our target is to achieve export sales of €26 billion per annum by 2020 and Enterprise Ireland is strategically focused on supporting clients to achieve this growth and a more diversified export market portfolio," Ms Sinnamon said.
"The economic indicators are positive for continued growth, and we are working with the strongest cohort of companies ever, competing and winning in more diversified export markets than ever before," she added.
On Brexit, Ms Sinnamon said that the UK market which is, and will remain, our largest market, performed well in 2017, delivering growth of 4%, despite the prevailing challenges, including volatility and uncertainty.
"We are working closely with UK dependent clients to help them to trade through the unpredictability and to protect hard-won market share in the UK," she said.
She said the agency is also progressing with its strategic ambition to expand the Irish export footprint in diversified global markets, reducing overall UK market exposure to one-third by 2020.