The Government should sell more bank shares sooner rather than later to reduce the risk of their value falling and to cut the state's still high debts, the head of the National Treasury Management Agency said.
The Government still has majority stakes in AIB and Permanent TSB, and a 14% holding in Bank of Ireland.
It last offloaded shares a year ago, when it sold almost 30% of AIB for €3.4 billion.
The bank's shares are 9% up on the initial public offering price of €4.40 but were as much as 31% higher in January.
"What I'm pointing out is that this late in the investment cycle there is a higher degree of risk that there will be a material fall in the value of those shares than there has been in previous years," the NTMA's CEO Conor O'Kelly told a news conference today.
"There are a lot of shares and they will be sold off over a long period of time and you have to average your way out of that to some degree but you've got to get started at some point and I think the sooner the better. Relying on the investment markets to always be there for you can be difficult," he said.
While Ireland's debt-to-GDP ratio has almost halved to 68% since 2013, Conor O'Kelly said investors were not interested in that measure "for obvious reasons."
The role of Ireland's large multi-national sector has reduced the relevance of using GDP as an accurate measure of the economy after annual growth of 26% was recorded for 2015 following a massive revision to the country's stock of capital assets.
Instead Conor O'Kelly said that with Ireland's stock of debt still rising and among the highest in the euro zone as a percentage of general government revenue, its ability to absorb future shocks would be limited without taking opportunities to pay down debt.
"We have to recognise just how vulnerable we are in the medium to long term while our debt is still as elevated," he said.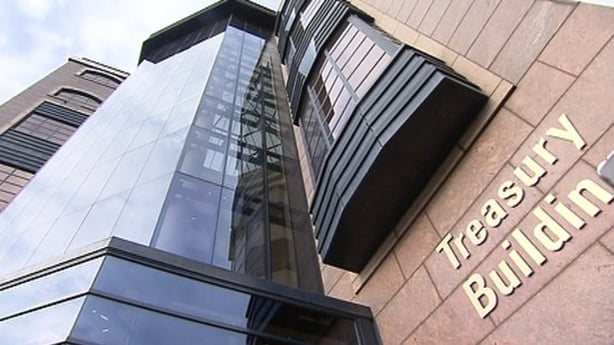 "While our debt ratios are improving, our total nominal debt is still rising as we continue to borrow to pay interest. This will limit our ability to absorb future shocks and therefore opportunities to pay down debt become even more important," Conor O'Kelly said.
He made his comments as the NTMA launched its annual report for last year and mid-term review for 2018.
The NTMA chief said the Government's position is that it is not a natural holder of bank shares so it is widely accepted in the markets that the Government selling down its shareholdings is a question of "when" and not "if".
While any decision on what to do with the proceeds from the sale of bank shares is a matter for the Finance Minister, as long as the state is an owner of bank shares, the state has significant exposure to the stock market, he added.
"We have reached a late stage in the current investment and interest rate cycle that has provided such a supportive backdrop for the Irish economy and for the NTMA as the state's debt manager. If the cycle is a 12-hour clock we are around 11 o'clock right now," Mr O'Kelly said.
The NTMA said it expects the country's annual interest bill to fall towards €5 billion in the near term, from €6.1 billion in 2017 and a peak of €7.5 billion in 2014.
It also said the country is benefiting from the fact that investors have reclassified Ireland as closer to the euro zone core than the periphery, reflecting the credibility that Ireland's policymakers have built with market participants.
But Mr O'Kelly also cautioned that a number of commentators have talked about darker clouds coming on the horizon, which he said may bring Ireland's high stock of debt - which at €213 billion is more than four times its 2007 level - into sharp focus.
Minister for Finance Paschal Donohoe said today's report is an opportunity to reflect on the "valuable work" that the NTMA does on behalf of the State in terms of managing the national debt.
"We have made a great deal of progress in restoring both our public finances and our reputation and the NTMA's actions in maximizing the interest rate environment to reduce our borrowing costs and extend the maturity profile of our debt is an important contribution to our national strategy," Mr Donohoe added.
Ireland eyes debut green bond issue in next 12 months
Conor O'Kelly also said today that the debt agency is exploring diversifying its fund raising to include the sale of green bonds.
He said the NTMA hopes to issue a debut bond in that market in the next six to 12 months.
"We said in the past that this period of very significant redemptions might be a period that we would use to diversity and that is still our position," Mr O'Kelly said.
"We issued our first inflation-linked bonds last year, which give us the opportunity to add to that. The green area is one we're exploring very closely and hopefully we might get the opportunity to issue something in the next six to 12 months," he added.