House building company Glenveagh Properties has announced four further substantial land acquisitions for its Homes and Living divisions.
The company said the Cork and Dublin sites, which cost €120m in total, are capable of delivering 2,780 units, assuming planning is obtained.
In a trading update issued ahead of its AGM today, Glenveagh said that it has spent €404m on land assets since its flotation last October.
It said it now has a landbank of 10,120 units - 31% of these are shovel ready with 97%  zoned residential. 
The company said it is ahead of schedule in meeting each of its IPO goals - buying land for residential purposes, building and selling houses and apartments and scaling its business as a PLC.
Glenveagh said its market backdrop remains "very favourable" with significant demand for housing, especially starter homes, evident across the group's selling sites. 
It said its Homes division remains on target to deliver 250 completed and sold units by the end of the year.
The company noted that demand is most pronounced in the starter home market - the group's core focus - with house price inflation and construction cost inflation in line with its expectations.
"Central government policy initiatives encouraging building delivery such as fast-track planning, help to buy, vacant site levy and changes to apartment building regulations are also a net positive for the group," it said.
The company's four new sites are in the Cork Docklands, with two in the Greater Dublin Area - Project Bill and Project Hector - and one in Castleforbes in Dublin's North Docklands. 
The 4.6 hectare site in Cork has the potential to deliver 1,000 housing units and the purchase price was over €15m. 
This marks Glenveagh's first in Cork Docklands, the city's new major urban hub and regeneration area.
The Project Bill site in the Greater Dublin Area has the potential to deliver about 400 residential units - subject to planning - and cost over €20m. 
Meanwhile, Project Hector in the GDA - which cost over €9m - could see the building of up to 700 homes - subject to planning.
The fourth site - Castleforbes in Dublin's North Docklands - has the potential for up to 650 homes - subject to planning. The company said the site cost about €60m, adding that the exact purchase price is commercially sensitive - as it is with the other sites purchased today.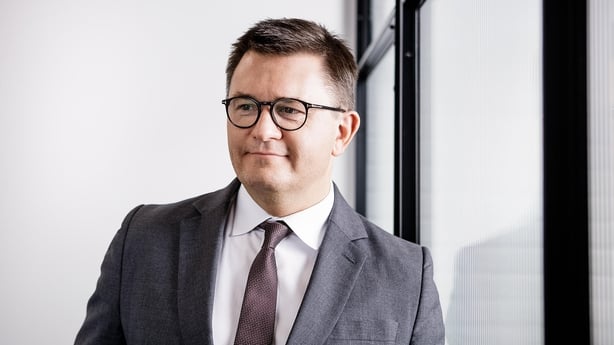 "Since last October when we created Glenveagh, we have made a fast start in turning land into built stock in a very favourable selling market," commented the company's co-founder and chief executive Justin Bickle. 
He said the company expects the current favourable market conditions to continue for its core Homes business.
The CEO added that the company's Living division it is seeking to deliver mixed-tenure solutions, to address the public housing crisis, having regard to the structural shift to rental in Dublin and other key cities.
"We believe that the combination of our Homes and Living divisions allow us to access both consumer and institutional demand for modern, well-built residential product in Ireland, and help diversify risk across the cycle," Mr Bickle added.